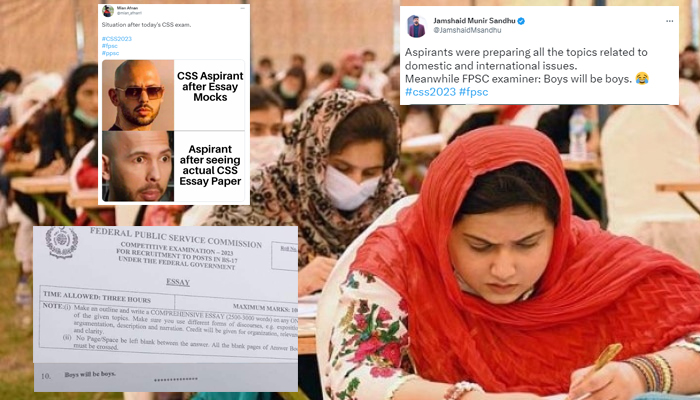 The Federal Public Service Commission (FPSC) has sparked a heated debate on social media on the very first day of the 2023 Central Superior Services (CSS) examination for asking students to write an essay on "boys will be boys".
The CSS examination is considered to be Pakistan's topmost competitive examination, applied for by over tens of thousands of students each year. The assessment is considered to be an elite examination and those appearing for it spend months — even years — preparing for it as those who clear it are selected for bureaucratic posts in the federal government.
Given the preeminent and highbrow nature of the examination and the importance it has in running the country's civil service, it comes as no surprise that people expect a lot from the examination body and what it asks in its tests.
Therefore, aspirants and the general public alike were stunned when during the very first examination — the formidable essay — one of the options presented to the students was "boys will be boys."
For most students each year, the biggest challenge during the CSS examination is the essay, not only because of the language barrier most students experience but also because most of the essays are expected to be thematic and eclectic. More than any other subject, it is the paper that students fret over.
However, the topic "boys will be boys" has left the internet divided.
On the one hand, some applicants and the academia feels that after spending long arduous hours studying, the question was too inane. Others felt that the topic and others in the paper were a much-needed shift from rote learning. Reactions to the essay topics ranged from shock to amusement and — in certain cases — even to rage outrage.
One user, took to Twitter, saying: "Aspirants were preparing all the topics related to domestic and international issues. Meanwhile FPSC examiner: Boys will be boys."
Others agree.
Another user noted that the mock examination they appeared for during their preparation were far more challenging and joked: "Situation after today's CSS exam"
Many people felt that the essay topic in question and others in the paper earlier today were poor selection and reflected poorly on the body responsible for selecting candidates for the topmost civil positions in the country.
Taking to Twitter, one user wrote: "Why does the FPSC assess candidates on essays written on topics suitable for 5th-grade students?!? "A friend walks in when everyone else walks out" "Boys will be boys" No wonder standards in our bureaucracy are plummeting."
Another user scathingly wrote: "A silly outdated early 20th cen[tury] model where [your] competence/intelligence (most importantly "patriotism" & "fitness" to serve country) are evaluated by an "essay" on open-ended subjects by out-of-touch narrow-minded conservative Boomer examiners. Result: intellectual mediocrity."
However, many defended that exam-making body and called the paper an "interesting" one.
One Twitter user wrote: "FPSC continues to surprise aspirants. Interesting paper. I loved the examiner's bent. Though some topics are too constrained and limited in scope to create a reasonable draft of 3000 words but overall, paper's make up is pleasantly surprising. Good for creative writers not crammer."
Another, writing in the same vein, said: "Uturn by FPSC. But good one. Logic, reasoning replace ratta, and ceremonial culture. Commercialized Academies are obsolete now. Good job."
Yet another Twitter user expressed shock at the disbelief being exhibited and wrote: "Don't know why 'CSS mentors' are losing their minds over this essay paper in general & topic number 10 in particular. It's quite a balanced paper warranting critical thinking & expository skills. 'Boys will be boys' needs deconstruction from a feminist perspective."