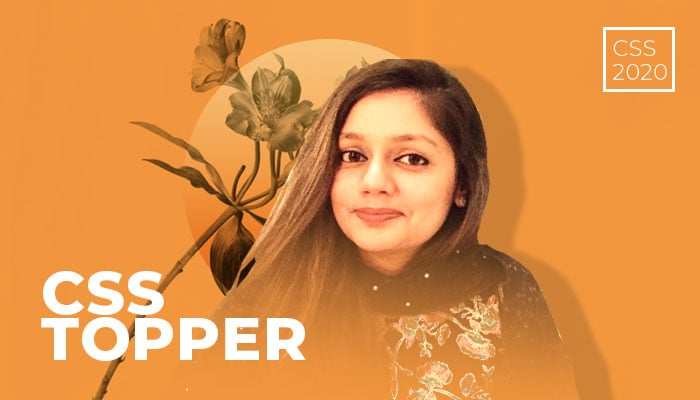 When Maheen Hassan set out to prepare for her Central Superior Service (CSS) exams, she had only one goal in mind: to work hard and be successful. And while she was able to accomplish her goals, it was not smooth sailing. 
Successfully passing the CSS exams is a significant achievement because qualifying candidates get a chance to assume some high-profile government posts in different sectors, including foreign service, commerce and trade, inland revenue, administrative service, customs, and the police, among others.

Geo.tv recently had a chance to chat with Maheen, a bright young woman from Lahore who recently topped the CSS exam and has been allocated to serve the Pakistan Administrative Service (PAS) as an assistant commissioner.

Those preparing for the CSS exams are required to study for several hours every day in order to be successful. Despite knowing about the challenges ahead, thousands of candidates appear in the CSS exams from all over Pakistan each year. However, owing to the highly competitive nature of the exams, only a handful of individuals achieve success.  In 2020, over 18,553 candidates appeared for the CSS exam from all over Pakistan, out of which only 376 were able to qualify.
In a bid to motivate aspiring candidates to appear in the exams and make a promising career for themselves, Maheen talked about her background, her study methods, and how she overcame the hurdles she faced during her journey towards success.

Speaking about her educational background, Maheen — whose family hails from Bhakkar — said that she had her schooling at the Garrison Academy in Lahore, while she passed her intermediate exams in the General Science Group from Kinnaird College for Women, Lahore.
"In 2007, I joined the Lahore University of Management Sciences (LUMS) for a BSc (Honours) in Politics and Economics. I graduated in 2011," she said. 
In 2012, she appeared in the CSS exams and simultaneously enrolled in an MPhil programme. This is when her journey towards success began.
"I appeared for CSS in 2012 and qualified the exams, after which I was selected for the Inland Revenue Service in 2013 — one of the service groups in civil service — commonly known as the Federal Bureau of Revenue (FBR)," she said. 
After that, Maheen once again appeared in the CSS in 2015 and qualified on merit, but couldn't make it to her desired service group, i.e. PAS. 
She, however, did not give up and in 2020, she reappeared in the CSS exams again. This time, she not only cleared the exams like the previous two times but was declared a topper and was finally selected for PAS.
Maheen said that her father also served the Pakistan Administrative Service, therefore, she had decided to follow in his footsteps at a very young age.

"My father was my biggest inspiration. I had decided early on that I would also appear in the CSS exams and become a civil servant," she said.
When questioned about the hurdles she faced while preparing for the exam, Maheen said that it was no easy feat to strike a work-life balance while taking the time out for studies.
While Maheen faced no moral or financial hurdles, being a mother to a young child, she had a difficult time managing her daily routine while preparing for the 2020 exams.
"With a full-time job and family responsibilities, I had to prioritise my work schedule and seek a lot of help from my mother to look after my son while I was studying. Having said that, it is pertinent to mention that a strong support system is essential for success, especially in the case of females."

In terms of preparation, she said that she planned a different schedule for weekdays and weekends. During the weekdays, she mostly studied for 3 to 4 hours, and over the weekends, she tried to study for at least 8 to 9 hours.
Sharing her study secrets, Maheen said that she used a combination of books and online sources to prepare for the exams.
"Aside from book and online sources, I mostly depended on the syllabus that I was studying, which immensely helped me," she said.
When asked whether a good educational background or attending a good educational institution plays an important part in passing the exams, Maheen agreed. She, however, emphasised that it should not discourage anyone from trying their luck.
"A good educational background definitely plays a part in a CSS aspirant's success, however, students from underprivileged backgrounds have an equal chance to work hard and pass it with flying colours. In fact, each year, many such aspirants pass the CSS exams against all odds."
She, however, reiterated that the exams should not be taken lightly because it requires a great deal of hard work, time, and commitment.
"Those who think that passing the CSS exams is a mammoth task are right, as it is, indeed, very difficult to be successful," she said, adding that despite the difficulty, passing the CSS exams is definitely not impossible.
Maheen said that there would be many ups and downs during the preparation of exams, but one would need to stay focused on their goal.
"I have qualified it thrice and I know many other people who have done the same. So anyone who works hard and stays determined can achieve success."
She also advised CSS aspirants to work on improving their English-language skills, especially in terms of writing.
"Practice writing as much as possible. Carefully select your subjects and stay in touch with your mentors. But most of all, stay focused," she suggested.
Lastly, Maheen said that she attributes her success to Allah, followed by her family, otherwise she wouldn't have been able to accomplish her dream.
"I am very happy and thankful to Allah for this honour and my family for supporting me."