BRISBANE: On the heels of Indian Prime Minister Narendra Modi gearing up to host Australian Prime Minister Anthony Albanese, pro-Khalistan secessionist group Sikhs for Justice (SFJ) has announced to hold Khalistan Referendum voting in Brisbane on March 19 after a strong show of over 55,000 Australian Sikhs at Federation Square, Melbourne two weeks ago.
Gurpatwant Singh Pannun, Sikhs for Justice General Counsel declared that the March 19 "Battlefield - Brisbane" Khalistan Referendum Voting Centre is dedicated to Shaheed Bhai Harmeet Singh Bhaowal and Shaheed Bibi Baljinder Kaur who were bombed to death along with their nine months old son Pavittar Singh on December 05, 1992, by the Indian Police forces in Haryana.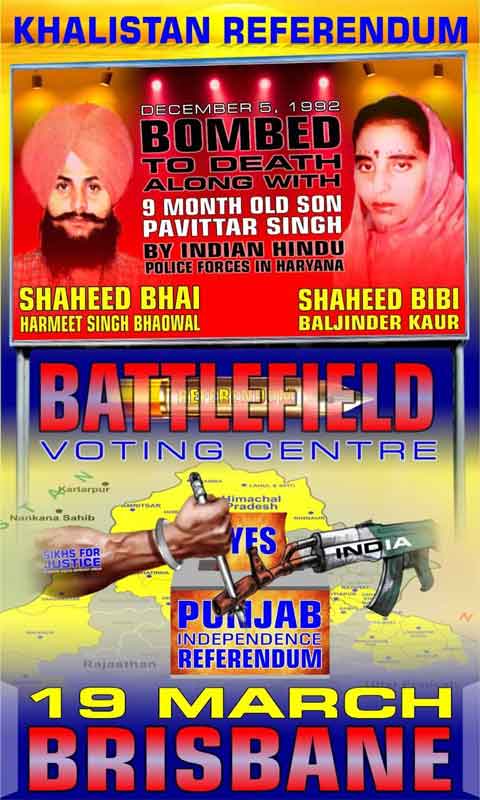 "While Modi regime is pursuing violence to crush the Khalistan Referendum, SFJ is using voting to resolve the decades-old conflict between the Sikhs and the Union of India," stated SFJ General Counsel Gurpatwant Singh Pannun in a video message.
"We urge PM Albanese to educate Modi that in democracy, seeking secession and independence through voting cannot be labelled as terrorism," added Pannun, the New York-based Attorney at Law who has been leading a global campaign for the creation of Khalistan.
SFJ announced that scores of November 1984 Sikh Genocide victim families from 32 Block Tirlokpuri, Delhi will be travelling to Brisbane to campaign for March 19 Khalistan Referendum voting.
Trilokpuri is the neighbourhood of Delhi where during November 1984 Hindu death squads were led by Congress leader Bhagat and BJP leader Ram Jain, a close associate of PM Vajpayee, the then head of BJP. The death squads necklaced to death over 450 Sikh men and gang-raped 100 plus Sikh women in broad daylight in the presence of police.
Two weeks ago on January 29, over 55,000 Sikhs voted for Khalistan Referendum at Melbourne's Federation Square to raise demand for the creation of Khalistan in Indian Punjab.
While over 55,000 Sikh men and women — over the age of 18 — were eligible to cast their votes, an estimated 15,000 voters were unable to cast their votes due to time limitations. An estimated 300,000 Sikhs live in Australian cities and the SFJ had announced that it will take the Referendum campaign to other cities to accommodate Sikhs wishing to express their democratic right for the creation of Khalistan.
Outside the voting centres Sikh youth and Hindutva supporters clashed and the local police arrested at least two people. Videos showed a group of Hindutva supporters attacking Sikh voters. Sikhs for Justice also released videos of a group of Indian men trying to vandalise Sikh Gurdwaras and actually vandalised three local Gurdwaras for supporting the Khalistan Referendum.
The Indian government has launched complaints with the UK, Canadian and Australian governments against Sikh groups, mainly SFJ, for running pro-Khalistan campaigns. These governments have told Indians that no laws have been violated and while they stood by the Indian government there is nothing they could do to stop their nationals from taking part in a democratic exercise.
Last week India told Canada that the Khalistan issue is of "national security concern" for New Delhi and that Ottawa should take stringent action against the Sikh groups. Sikhs For Justice says its activities are democratic and peaceful and covered by local laws.