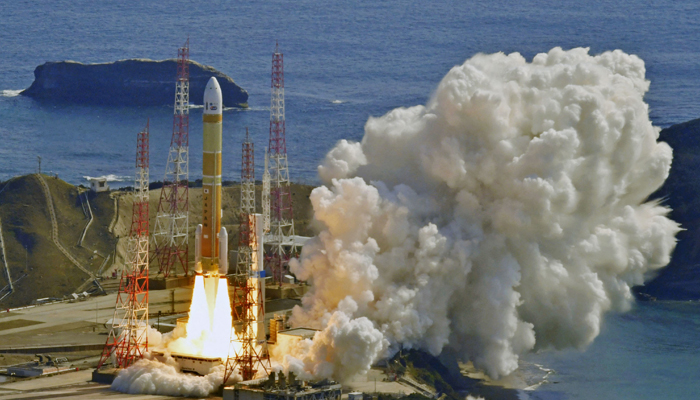 Destruct signal sent to rocket 14 minutes into flight.
Japan space agency says still hopes to field competitive rocket.
Rocket to eventually supply planned US lunar space station.
---
TOKYO: Japan's new medium-lift rocket failed on its debut flight in space on Tuesday after the launcher's second-stage engine did not ignite as planned, in a blow to its efforts to cut the cost of accessing space and compete against Elon Musk's SpaceX.

The 57-metre (187 ft) tall H3 rocket, Japan's first new model in three decades, lifted off without a hitch from the Tanegashima space port, a live-streamed broadcast by the Japan Aerospace Exploration Agency (JAXA) showed.
But upon reaching space, the rocket's second-stage engine failed to ignite, forcing mission officials to manually destroy the vehicle 14 minutes into the flight.
"It was decided the rocket could not complete its mission, so the destruct command was sent," JAXA said in a statement.
The failed attempt followed an aborted launch last month, and the debris would have fallen into the ocean east of the Philippines, JAXA said.
Science and Technology Minister Keiko Nagaoka said in a statement that the government had established a task force to investigate the "very regrettable" failure.
"This will have a serious impact on Japan's future space policy, space business and technological competitiveness," said Hirotaka Watanabe, a professor at Osaka University with expertise in space policy.
Cheaper access to space
The H3 was carrying the ALOS-3, a disaster management land observation satellite, which was also equipped with an experimental infrared sensor designed to detect North Korean ballistic missile launches.
"The H3 is extremely important to ensure our access to space and to ensure we are competitive," JAXA President Hiroshi Yamakawa told reporters. JAXA's goal of fielding a competitive launcher was unchanged, he added.
H3 builder Mitsubishi Heavy Industries Ltd (MHI) said it was confirming the situation surrounding the rocket with JAXA and did not have an immediate comment.
MHI has estimated that the H3's cost per launch will be half that of its predecessor, the H-II, helping it win business in a global launch market increasingly dominated by SpaceX's reusable Falcon 9 rocket.
A company spokesperson said earlier that it was also relying on the reliability of Japan's previous rockets to gain business.
In a report published in September, the Center for Strategic and International Studies (CSIS) put the cost of a Falcon 9 launch to low Earth orbit at $2,600 per kilogramme. The equivalent price tag for the H-II is $10,500.
A successful launch on Tuesday would have put the Japanese rocket into space ahead of the planned launch later this year of the European Space Agency's new lower-cost Ariane 6 vehicle.
Powered by a new simpler, lower-cost engine that includes 3D-printed parts, the H3 is designed to lift government and commercial satellites into Earth orbit and will ferry supplies to the International Space Station (ISS).
As part of Japan's deepening cooperation with the United States in space, it will also eventually carry cargo to the Gateway lunar space station that the US space agency NASA plans to build as part of its programme to return people to the moon, including Japanese astronauts.
Shares of MHI closed 0.37% lower, while the broader Japanese benchmark index was up 0.25%.