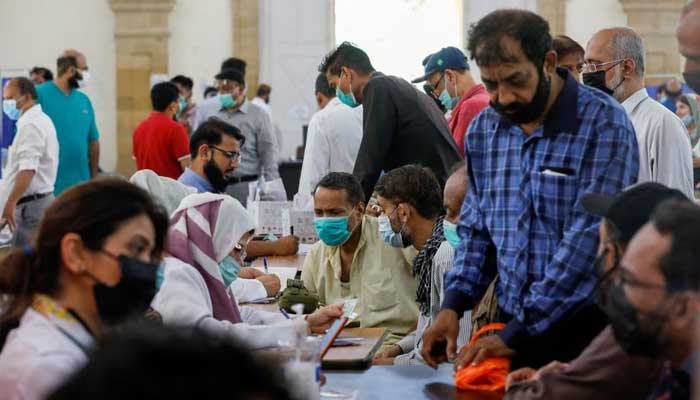 KARACHI: The Aga Khan University has urged its faculty, staff and students to remain mindful, as "clusters" tested positive for COVID-19, said the university, in an internal memo seen by Geo.tv.
"Over the past few days, clusters of staff and students have been identified positive for COVID-19. Fortunately, the symptoms for all of these individuals have been mild, similar to seasonal colds and no one has required admission," the memo read.
It also mentioned that the presence of the virus is a strong indication that it is still prevalent in the community and its infectious spread continues.
Even though the infection is mild in healthy individuals, according to the university, it has urged its healthcare workers, faculty and students to remain mindful, as its severity may increase in individuals who are "elderly with other medical problems or those who are not vaccinated".
The university further asked its staff — including its faculty and students — to ensure their protection and that of their families and patients to curtail the spread of the virus.
In its memo, the university has insisted on continued masking by everyone in all outpatient facilities including radiology and laboratory services; mandatory masking by all healthcare workers in inpatient facilities; mandatory masking in all areas if someone has symptoms of a cold and urged immediate reporting to its Employee/Student Health department for COVID-19 testing.
It also asked them to get vaccinated with the new bivalent vaccine if their last dose was more than six months ago.
Meanwhile, the National Institutes of Health (NIH) Pakistan — in its latest statistics update on the coronavirus under the National Command and Operation Center — mentioned that the country recorded 129 positive cases with a positivity ratio of 2.98%.
Fourteen patients have been reported critical, but no deaths have been recorded by the medical facility.
According to the NIH, 4,334 COVID-19 cases have been reported by the NIH Pakistan.