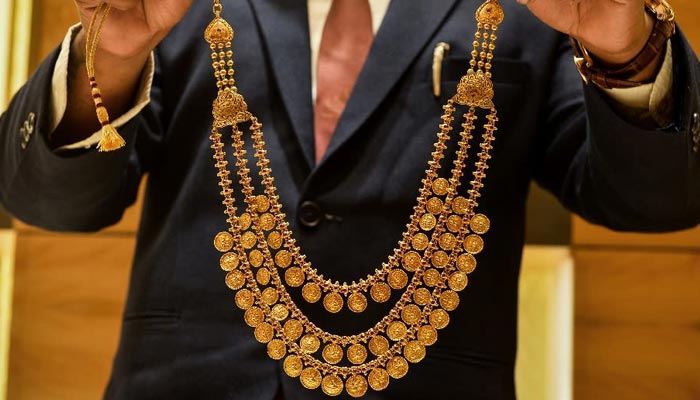 Gold price settles at Rs204,200 per tola.
It gained Rs6,700 per tola in six sessions.
Silver price remains unchanged at Rs2,150 per tola.
---
Gold prices were higher for a sixth straight session on Friday, scaling over Rs204,000 as deepening political tensions triggered a fresh wave of concerns regarding a prolonged economic crisis.
Data released by All-Pakistan Sarafa Gems and Jewellers Association (APSGJA) showed that the price of gold (24 carats) increased by Rs700 per tola and Rs600 per 10 grams to settle at Rs204,200 and Rs175,068.
Gold barely responded to the appreciation of the Pakistani rupee against the US dollar, and moved in a narrow range staying above the key threshold of Rs200,000 per tola.

Cumulatively, the precious commodity has gained Rs6,700 per tola in the six sessions (Saturday-Friday).
As the other markets slide investors generally find refuge in gold to maintain a low-risk profile.
A likely economic contraction looms over Pakistan amid political and economic uncertainties and a holdup in the revival of the International Monetary Fund's (IMF) loan.
The association said prices in the local market remained lower by Rs4,000 per tola as compared with the rates in Dubai's gold market.
Meanwhile, silver prices in the domestic market remained unchanged at Rs2,150 per tola and Rs1,843.27 per 10 grams, respectively.
In the international market, gold prices rose on Friday, seeing their biggest weekly gain since mid-November as a global banking crisis sent investors flocking to the safe haven metal. The per-ounce price settled at $1,936 after an increase of $10.
Gold this week benefited from safe-haven trading and dollar weakness, said Ricardo Evangelista, senior analyst at ActivTrades, adding the decision in Europe to raise rates weighed negatively on the dollar, contributing to gold's strength.