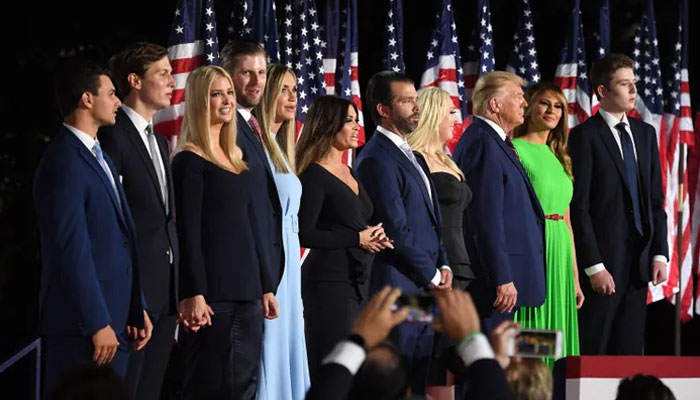 WASHINGTON: During his tenure in the White House, former President Donald Trump and his family allegedly failed to disclose gifts from foreign governments that exceeded $250,000 worth, according to a statement made by Democrats on Friday. These gifts reportedly included items such as golden golf clubs from Japan and sword sets from members of the Saudi royal family.
The items were among some 100 presents listed in preliminary findings from opposition Democratic lawmakers who sit on the Republican-led US House Oversight Committee, saying many remained unaccounted for in government records.
Jamie Raskin, the top Democrat on the panel, criticized the former president's administration's "brazen disregard for the rule of law and its systematic mishandling of large gifts from foreign governments."
The Maryland congressman pointed to "many lavish personalized gifts" that were never reported, vowing to determine their current whereabouts and "whether they may have been used to influence the president in his conduct of US foreign policy."
They include 16 items from the Saudis and Emiratis worth around $45,000, including a $24,000 dagger from Saudi Crown Prince Mohammad bin Salman for Trump's son-in-law Jared Kushner, and two sword sets.
The list also features a larger-than-life painting of Trump from the president of El Salvador that committee investigators believe may have been moved to Florida, where Trump owns a beachfront mansion and three golf clubs.
Japan's Shinzo Abe, who was assassinated last year, gave a $3,755 gold golf driver to Trump in November 2016, seeking to cultivate a "special relationship" with the newly minted president-elect, the Democrats said.
Abe gave the then-president more clubs during visits to the Trump International Golf Club in Florida and Kasumigaseki Country Club on the outskirts of Tokyo in 2017 and 2018.
The Trumps also received 17 unreported gifts from India worth almost $50,000, the report says, including a $4,600 model of the Taj Mahal and $1,900 cufflinks.
"The discovery of these unreported foreign gifts raises significant questions about why former president Trump failed to disclose these gifts to the public, as required by federal law," the House Democrats said in a statement.
Trump's office didn't respond immediately to a request for comment.