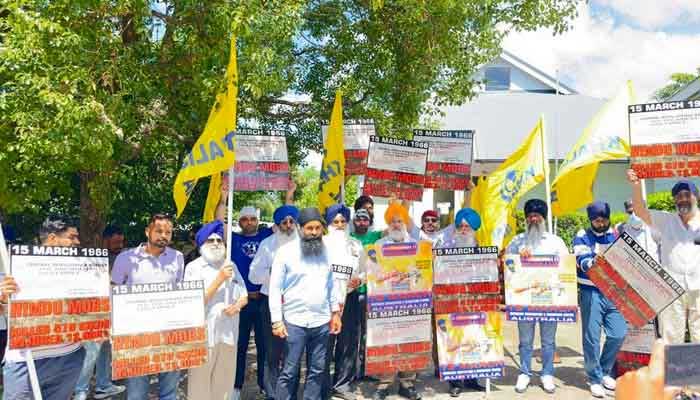 BRISBANE: Tensions have risen here ahead of the Khalistan Referendum voting on March 19 as dozens of pro-Khalistan Sikhs rounded up and forced the closure of India's honorary consulate in Brisbane and the Australian government issued an updated travel advisory advising its citizens against travelling to India due to a "high risk of violence" in certain states, including Punjab.

Ahead of the March 19 polling organised by pro-Khalistan secessionist group Sikhs For Justice (SFJ), the Indian External Affairs Ministry spokesperson Arindam Bagchi has said that Prime Minister Narendra Modi had raised with his Australian counterpart Anthony Albanese the recent alleged incidents of attacks on temples in Australia as well as pro-Khalistani activities in that country.
It is understood that the Indian PM Modi raised the issue with the Australian government after over 50,000 Sikhs turned up to vote for the Khalistan Referendum in Melbourne for the first phase of the referendum at the end of January this year. Clashes broke out on streets between Sikhs and Hindu groups outside the voting centre and several arrests were made.
Sikhs For Justice (SFJ) has said that Sikhs have come under attack from hardline Hindutva supporters in Australia and they were captured on videos defacing Khalistan banners hanged at the Sikh temples. On March 15, the consulate of India located on Swann Road in Brisbane was forced to close down after pro-Khalistan supporters blockaded its entry, raising slogans for justice.
Queensland Police have said the pro-Khalistan and anti-India protest was lawful and peaceful. MEA spokesperson Bagchi in his media talk confirmed that a group of Sikhs protestors had entered the consulate and the work was halted. Bagchi said India has taken up the issue with the Australian authorities.
Gurpatwant Singh Pannun, Sikhs for Justice General Counsel declared that the March 19 "Battlefield - Brisbane" Khalistan Referendum Voting Centre is dedicated to Shaheed Bhai Harmeet Singh Bhaowal and Shaheed Bibi Baljinder Kaur who were bombed to death along with their nine months old son Pavittar Singh on December 5, 1992, by the Indian Police forces in Haryana.
"While the Modi regime is pursuing violence to crush the Khalistan Referendum, SFJ is using voting to resolve the decades-old conflict between the Sikhs and the Union of India," stated SFJ General Counsel Gurpatwant Singh Pannun in a video message. "We had urged PM Albanese to educate Modi that in democracy, seeking secession and independence through voting cannot be labelled as terrorism," added Pannun, the New York-based Attorney at Law who has been leading a global campaign for the creation of Khalistan.
It is understood that the Indian government is not happy with the recent Australian travel advisory cautioning its citizens planning a trip to India to exercise a high degree of caution.
"We now advise you to reconsider need to travel to the Attari-Wagah border crossing, the north-eastern states of Assam (except Guwahati), Nagaland and Manipur; and Chhattisgarh, and the border areas of neighbouring states due to the high risk of violence," the government states in its latest advisory.
The Australian government has also urged its citizens not to travel to the Indian Illegally Occupied Jammu Kashmir (IIOJK) and the India-Pakistan border (except the Attari–Wagah border crossing) due to the danger of armed clashes.
The March 19 voting for Khalistan Referendum is going to take place in Brisbane Convention and Exhibition Centre, a government-owned and operated facility, while pro-India Hindu group is expected to show up for a counter-protest.
The Indian government and a pro-India faction of the Indian diaspora seem perplexed at the Australian refusal to take down the Khalistan Referendum campaign and voting, which India considers as "terrorism challenging to India's territorial integrity".