Macron's govt used constitutional measure to adopt reform.
He would go live to answer questions at 1pm on Wednesday, his office says.
Official adoption of reform Tuesday unlikely to defuse crisis since his re-election. 
---
PARIS: French President Emmanuel Macron will give a televised interview, his office said on Tuesday, after his government fended off two no-confidence votes in parliament over a controversial pensions overhaul that has sparked mass protests.

Macron's government used a constitutional measure to adopt the reform, which pushes back the retirement age to 64 from 62, without a vote in the lower-house National Assembly, sparking claims of a "denial of democracy" by angry demonstrators.
His office said he would go live to answer questions by journalists from broadcasters TF1 and France 2 at 1:00 pm (1200 GMT) on Wednesday, having largely remained silent on the pension changes in the weeks leading up to the stormy parliament session where it was pushed through last week.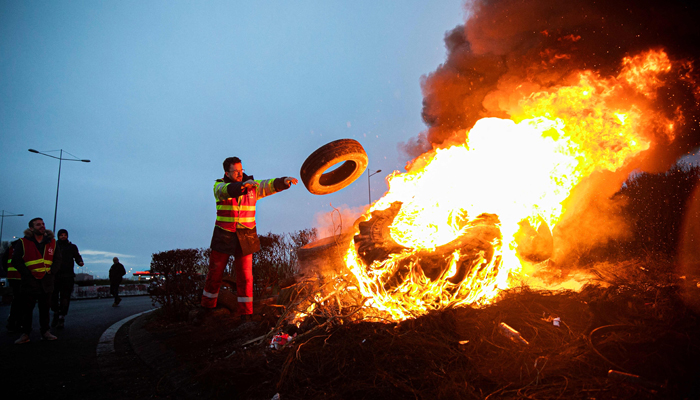 On Monday, the government survived two no-confidence motions lodged by opposition groups, with one failing by just nine votes in the 577-seat National Assembly.
The official adoption of the reform on Tuesday appears unlikely to defuse the biggest domestic crisis since Macron's re-election last year, with daily protests in cities around the country that have on occasion turned violent.
Police arrested 234 people in Paris alone on Monday night during tense standoffs between protesters and security forces, a police source said, with several groups burning trash bins, bikes and other objects.
Similar scenes were reported in other French cities, including Dijon and Strasbourg — where protesters smashed the windows of a department store, AFP correspondents said, with police detaining 287 people across the country overall, the source said.
Macron is set to meet with his Prime Minister Elisabeth Borne on Tuesday, as well as the president of the Assembly, Yael Braun-Pivet of his centrist Renaissance party, and the right-wing president of the Senate, Gerard Larcher.
He will then meet with Renaissance lawmakers in the evening, his office said, as opponents vowed to keep up the protests.
Strikes ahead
"Nothing will weaken the determination of the workers," the hard-line CGT union said.
A new round of strikes and protests has been called on Thursday and are expected to again bring public transport to a standstill in several areas.
There has also been a rolling strike by rubbish collectors in Paris and some other cities, leading to unsightly and unhygienic piles of trash accumulating in the French capital.
The government also said on Tuesday that it would requisition workers at a fuel depot in Fos-sur-Mer near the southern city of Marseille, as petrol stations across the country start to go dry during a strike by refinery workers.
The far-right camp meanwhile is counting on appealing to the Constitutional Council.
Borne said she had already asked the Constitutional Court to check the law while the left-wing opposition has filed a court request for a referendum on the issue.
"I am determined to continue to carry out the necessary transformations in our country with my ministers and to devote all my energy to meeting the expectations of our fellow citizens," Borne said in a statement to AFP after the no-confidence votes.
The future of Borne, appointed France's second female premier by Macron after his election victory over the far right, remains in doubt after she failed to secure a parliamentary majority for the reform.
Government insiders and observers have raised fears that France is again heading for another bout of violent anti-government protests, only a few years after the "Yellow Vest" movement shook the country from 2018-2019.
Problem of legitimacy
One of the Republicans who voted for the ousting of the government, Aurelien Pradie, said afterwards Macron should withdraw the "poisoned law".
"It is obvious today that the government has a problem of legitimacy and the president cannot remain a spectator of this situation," Pradie told BFM television.
Marine Le Pen, the far-right leader who challenged Macron in the 2022 elections, said Borne "should go or be made to resign by the president".
A survey on Sunday showed Macron's personal rating at its lowest level since the height of the "Yellow Vest" protest movement in 2019, with only 28% of respondents having a positive view of him.
Macron has argued that pension changes are needed to avoid crippling deficits in the coming decades linked to France's ageing population.
Opponents of the reform say it places an unfair burden on low earners, women and people doing physically draining jobs.
Opinion polls have consistently shown that two-thirds of French people oppose the changes.