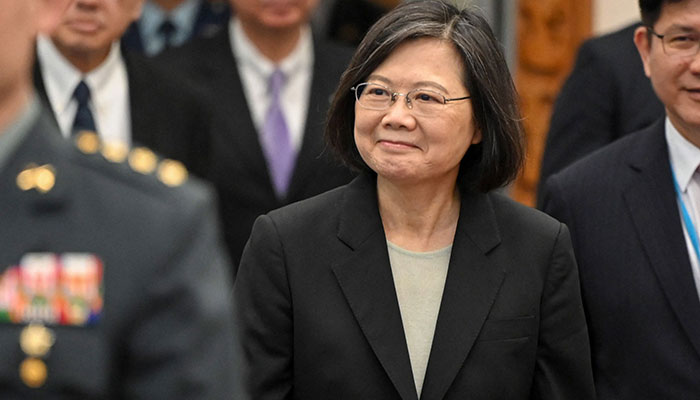 Tsai left on Wednesday for the United States.
China shouldn't step up aggressive activity around Taiwan Strait: US
Tsai will also meet Guatemalan President and Belize PM. 
---
TAIPEI: China vowed on Wednesday to "fight back" should Taiwan President Tsai Ing-wen meet the US House speaker during a trip to the United States.
Tsai left on Wednesday for the United States, from where she will head to Guatemala and Belize to shore up ties with diplomatic allies. On her way back to Taiwan she will stop in California, where US House Speaker Kevin McCarthy had said he would meet her.
China claims the democratic island as part of its territory to be retaken one day and, under its "One China" principle, no country may maintain official ties with both Beijing and Taipei.
Beijing warned Wednesday that it was "resolutely opposed" to any meeting between Tsai and McCarthy and vowed to take "resolute measures to fight back" if it goes ahead.
"If (Tsai) engages with US House Speaker McCarthy, it will be another provocation that seriously violates the One China principle, undermines China's sovereignty and territorial integrity, and undermines peace and stability across the Taiwan Strait," Taiwan Affairs Office spokesperson Zhu Fenglian said.
The United States responded by saying China should not use Tsai's stopover "as a pretext to step up any aggressive activity around the Taiwan Strait."
"There's no reason for them to react harshly," White House National Security spokesman John Kirby told reporters.
"This transit is consistent with our long-standing artificial relationship with Taiwan and it is consistent with the United States One China policy, which remains unchanged," Kirby said.
Tsai's trip follows Honduras's decision this month to open diplomatic relations with Beijing, leaving Belize and Guatemala among just 13 countries that have official ties with Taipei.
"External pressure will not hinder our determination to go global," Tsai told reporters at the airport before leaving. "We are calm and confident. We will not succumb and we will not provoke (others)."
US call for calm
After first visiting New York, Tsai will meet her Guatemalan counterpart Alejandro Giammattei and Belize Prime Minister John Briceno in their respective countries, her office said.
She will then stop in Los Angeles on her way home.
McCarthy has said he will meet Tsai in California, although the talks are yet to be confirmed by Taiwanese authorities.
A visit by McCarthy's predecessor Nancy Pelosi to Taiwan last year sparked an angry response from Beijing, with the Chinese military conducting drills at an unprecedented scale around the island.
Beijing's foreign ministry said Washington "blindly connives with and supports Taiwan's independence and secessionist forces".
Official vs unofficial ties
Analysts say the US stopover comes at a key time, with Beijing having ramped up military, economic and diplomatic pressure on Taiwan since Tsai came to power in 2016, poaching nine of its diplomatic allies.
"Beijing's attempts to poach Taiwan's diplomatic partners will lead to Taiwan developing closer ties with the United States," said James Lee, a researcher on US-Taiwan relations at Academia Sinica.
The United States remains Taiwan's most important ally — and its biggest arms supplier — despite switching its diplomatic recognition to Beijing in 1979.
"The loss of official relations with third countries will be offset by a deepening of Taiwan's unofficial relations," Lee said.
Recent visits by a Czech delegation and a German minister met rebukes from Beijing.
One of Tsai's most prominent domestic opponents, ex-president Ma Ying-jeou, was in China on Wednesday, the first such trip by a former Taiwanese leader.
Diplomatic battleground
China has increased investment in Latin America, a key diplomatic battleground between Taipei and Beijing since the two sides split in 1949 after a civil war.
Taiwan accused China on Sunday of using "coercion and intimidation" to lure away its allies after Honduran Foreign Minister Enrique Reina and his Chinese counterpart Qin Gang officially launched relations in Beijing.
Honduras, one of the poorest countries in the region, made the switch due to economic necessity, Reina had said earlier.
The move continued a trend in Latin America, with Nicaragua, El Salvador, Panama, the Dominican Republic and Costa Rica all switching diplomatic recognition to Beijing in recent years.
In addition to Guatemala and Belize, Taiwan still has official ties with a handful of countries in Latin America and the Caribbean, including Paraguay and Haiti.