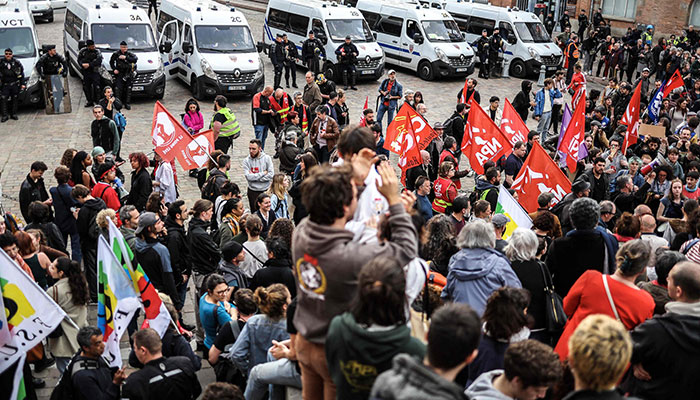 WASHINGTON: The White House said Thursday it supports a global right to protest peacefully as the French continued to express outrage over President Emmanuel Macron's unpopular pensions reform and police brutality.
"We support the right of people to protest and to express their opinions and to demonstrate peacefully there as we would anywhere," White House National Security Council spokesman John Kirby said when asked about the situation in France.
French police have been strongly criticized by rights groups for heavy-handed reaction to anti-Macron protests over the past month.
European Commissioner for Human Rights Dunja Mijatovic said last week that police cannot block or mistreat demonstrators just because a few people instigate violence.
"The sporadic acts of violence of some protesters or other reprehensible acts committed by other persons during a protest cannot justify excessive use of force by agents of the state," she said.
"These acts are also not enough to deprive peaceful protesters of their right to freedom of assembly," she said.
On Thursday Macron said the protests would not deter his pension or water use reforms, which have also sparked resistance.
"There is contestation over a reform, but it doesn't mean everything else should grind to a halt," he said near the Alpine village of Savines-le-Lac.
"We need to continue working," Macron said.