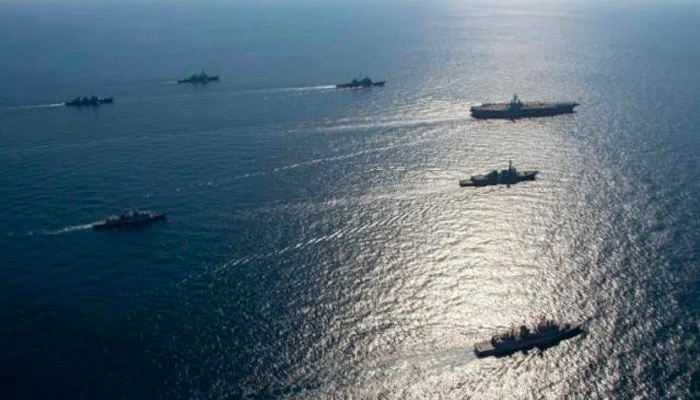 After spotting a North Korean vessel temporarily crossing the disputed western sea boundary, South Korea's military said it fired warning shots to repel their potential obtrusion.
The North Korean patrol vessel, which crossed the North Limit Line at around 11am on Saturday, was moving in the waters while chasing a Chinese fishing boat near South Korea's Baekryeong island, USA Today reported.
However, the vessel retreated immediately after warning shots were fired by a South Korean naval vessel, South Korea's joint chiefs of staff said on Sunday.
During the action, the South Korean high-speed vessel struck into the Chinese boat while responding to the intrusion due to poor visibility. This led to bruises and minor injuries sustained by some South Korean sailors. However, there were no exchanges of fire between the archrivals in the sea.
"The South Korean military is closely monitoring North Korean military activities while preparing for various possibilities of provocations," said the joint chiefs of staff as quoted by the American publication.
This was not the first time that such an activity has taken place in the disputed territory's waters. The South Korean navy has also fired warning shots in the past to push back North Korean vessels trespassing the poorly-marked sea border. However, there have been fatalities during these clashes throughout years.
In 2010, South Korea censured the Kim Jong Un-led nation for an attack on their warship which left 46 of their sailors killed. The latter denied responsibility for the attack.
Meanwhile, Saturday's incident took place in the midst of intense tension in the region as both nations have escalated their military activities to counter each other recently.
North Korea boasted its weapons in a military equipment demonstration last week, while the South Korean military carried out a joint exercise with the United States (US) aimed at countering the former's threat.
Later this month, South Korean President Yoon Suk Yeol and the country's first lady Kim Keon Hee will be hosted by US President Joe Biden and first lady Jill Biden in the US.
A statement issued by the White House mentioned that the visit "celebrates the 70th anniversary of the US-(Republic of Korea) alliance, which is critical to advancing peace, stability, and prosperity for our two countries, the Indo-Pacific, and around the world."