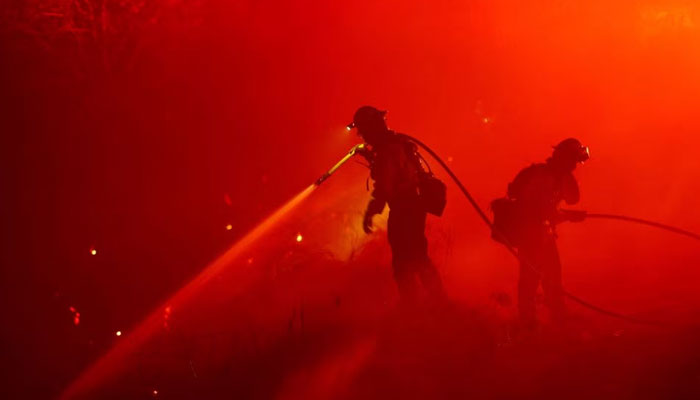 LOS ANGELES: Firefighters battled the state's first large wildfire of the year in rugged foothills east of Los Angeles barely five weeks after the last bout of heavy rain and snow in California's historically wet winter.
The Nob blaze has burned some 200 acres of bush and grass in the San Bernardino National Forest since flaring on Wednesday, with 25% of the blaze's perimeter controlled by Thursday night, according to the U.S. Forest Service.
Agency spokesperson Lyn Sieliet said that the fire posed no direct danger to settled regions as it torched abrupt landscape deep in the woodland. The cause of the fire was under probe.
The fire was slim compared with nightmare blazes that have become more regular and severe in recent years, scorching hundreds of thousands of acres, devastating whole neighbourhoods and causing mass evacuations.
Still, it marked the first blaze of the 2023 season measuring 100 acres or more, signalling the potential for extreme wildfire activity this summer and fall. Experts have warned that this winter's bountiful rainfall prompted heavy growth of grass and scrub that will dry out by summer, leaving a larger, thicker fuel bed for wildfires.
The glut of precipitation, however, also has increased the moisture content in shrubs and trees, making them more flame-resistant in the short term and helping forestall the onset of the fire season.
By April 2022, three years into a crippling drought, California had already tallied over a dozen major wildfires, the Los Angeles Times reported, citing data from the California Department of Forestry and Fire Protection (CalFire).
The latest fire in San Bernardino County came as low-lying communities in central California braced for possible floods from the rapid runoff of melting snow in the Sierra Nevada Mountains.
Forecasters said a warming trend hastened a spring thaw following a spate of Pacific storms that pummeled California with torrential rains and mountain snow from late December until late March.