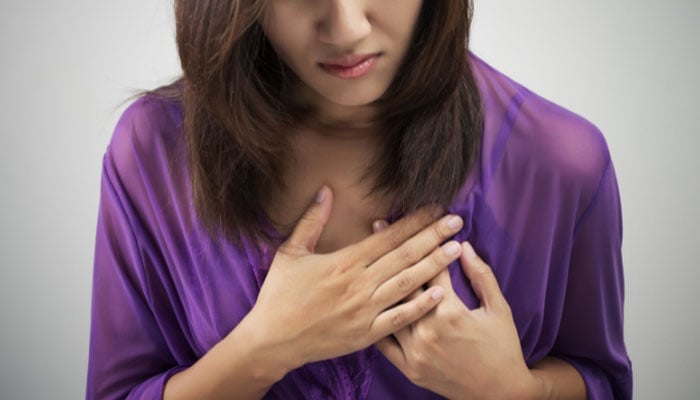 A recent study found that women have double the chances to die after a heart attack than men, The Independent reported. 
According to the researchers, the findings of the study highlight that more awareness should be raised about the risks of heart disease in women.
The study also found that women who were 55 years of age or below had to wait 15 minutes longer for treatment after reaching the hospital.
Another study found that women who have a heart attack with a completely blocked coronary artery have a worse prognosis than men during their stay at the hospital.
Study author Dr Mariana Martinho said: "Women of all ages who experience a myocardial infarction are at particularly high risk of a poor prognosis.
"These women need regular monitoring after their heart event, with strict control of blood pressure, cholesterol levels and diabetes, and referral to cardiac rehabilitation.
"Smoking levels are rising in young women and this should be tackled, along with promoting physical activity and healthy living."
Short and long-term outcomes after ST-elevation myocardial infarction (STEMI) in both genders were also compared. The apparent sex differences in premenopausal and postmenopausal women were also checked.
About 884 patients took part in the study of whom 27% were women and the average age was 62 years.
It was found that women had greater rates of high blood pressure, diabetes and prior stroke than men.
Moreover, premenopausal women had to wait longer than men for treatment when arriving at the hospital.
Adverse outcomes were also compared between both genders after considering factors such as diabetes, high cholesterol, hypertension, coronary artery disease, heart failure, chronic kidney disease, peripheral artery disease, stroke and family history of coronary artery disease.
It was found that 11.8% of women had died compared with 4.6% of men at 30 days.
Nearly 32.1% of women had died compared with 16.9% of men at five years.
Women also experienced major adverse cardiovascular events in five years than men.
"Women had a two to three times higher likelihood of adverse outcomes than men in the short and long-term even after adjusting for other conditions and despite receiving PCI within the same timeframe as men," Dr Martinho said.
"The findings are another reminder of the need for greater awareness of the risks of heart disease in women," she concluded.