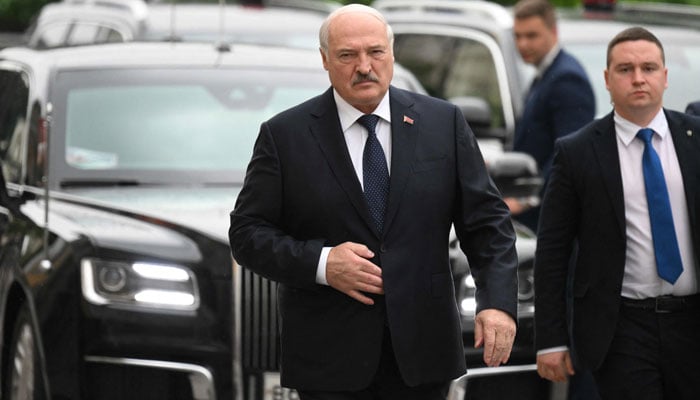 During the meeting with his close ally Russian President Vladimir Putin, Belarus President Alexander Lukashenko became seriously ill after which he was taken to the hospital where his condition is reported to be critical.
Lukashenko's opposition leader Valery Tsepkalo wrote on Twitter: "According to the information we have, which needs additional confirmation, Lukashenko — after meeting with Putin behind closed doors — was urgently taken to the Central Clinical Hospital in Moscow, where he is now located."
"His condition was assessed by leading Russian doctors as critical and his blood was purified. He was deemed not fit to travel back to Belarus."
According to reports, Lukashenko's plane was sent back on the one-hour flight to Minsk to mask his hospitalisation in Moscow.
"The orchestrated efforts to save the Belarusian dictator aimed to dispel speculations regarding Kremlin's alleged involvement in his poisoning."
Lukashenko is Vladimir Putin's closest ally apart from in support of Russia's special operation in Ukraine. There are, however, speculations that he may have been poisoned by Russian secret services so that they could get a more obedient leader in Belarus.
Tsepkalo said: "The organised measures to save the Belarusian dictator were intended to ward off speculation about the possible participation of the Kremlin in his poisoning."
"It does not matter whether he returns to working condition or not, doctors warn of a possible recurrence of relapses."
Before travelling to Moscow, Lukashenko said last week for the annual Eurasian Economic Union (EAEU) summit that he had been suffering from "adenovirus" adding that "so I'm not planning to die, guys."
He would be "tormenting" his foes for a long time, he remarked.
Earlier this week, Lukashenko announced that Moscow's nuclear weapons are being stationed in his country, a move which the Western military alliance NATO regarded as "dangerous and irresponsible".
Belarus is an eastern European country bordering three Nato countries, alongside Russia and Ukraine.
The nuclear deployment would mark the stationing of killing weapons since 1991 when the Soviet Union imploded.
Putin said the construction of storage facilities in Belarus for them would be completed by July.
"Deployment of nonstrategic nuclear weapons is an effective response to the aggressive policy of countries unfriendly to us," Belarusian Defense Minister Viktor Khrenin said while meeting his Russian counterpart, Sergei Shoigu, in Minsk.
"In the context of an extremely sharp escalation of threats on the western borders of Russia and Belarus, a decision was made to take countermeasures in the military-nuclear sphere," Shoigu added.