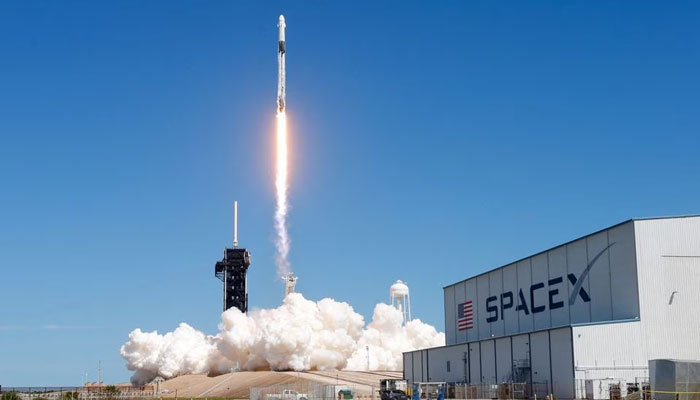 As a resupply mission to the International Space Station (ISS), a SpaceX Dragon cargo ship, with the help of a Falcon 9 rocket lifted off from Kennedy Space Station Monday as it was loaded with 7,000 pounds of equipment.
The supplies also included two add-on roll-out solar blankets as the mission started its 18-hour trip.
The mission was delayed on Saturday and Sunday due to weather conditions but it was finally launched onto a northeasterly trajectory matching the ISS's orbital track.
The first stage, and its fifth flight, boosted the rocket out of the lower atmosphere before separating and flying itself to the landing barge.
The second stage continued the climb to orbit, releasing the unpiloted Dragon to fly on its own about 12 minutes after liftoff.
If everything went as per plan, the ship will carry out a number of automated rendezvous rocket firings to catch up with its quarry Tuesday morning, moving in for docking at the Harmony module's space-facing port at 5:50am.
According to CBS News, "Packed in its pressurised cabin, the section of the Dragon accessible to the crew inside the station, are 2,420 pounds of crew supplies, 1,082 pounds of space station hardware, 586 pounds of science gear and 115 pounds of the spacewalk and computer equipment."
"In the Dragon's unpressurised lower trunk section are two ISS roll-out solar array blankets, or IROSAs, the fifth and sixth to be added to the station to augment the lab's ageing solar panels."
Solar cells degrade over time and Nasa is adding six IROSAs, at a cost of $103 million, to the existing power system. 
Each 20-foot-wide roll-out blanket is attached to the base of an already existing array, extending 63 feet when fully deployed and each generating more than 20kw of power.
Nasa is now planning to order a final two IROSAs in the coming time to power the station power required to sustain agency-sponsored investigations, anticipated commercial activity and the addition of one-or-more commercial modules between now and the ISS's expiry at the end of the decade.