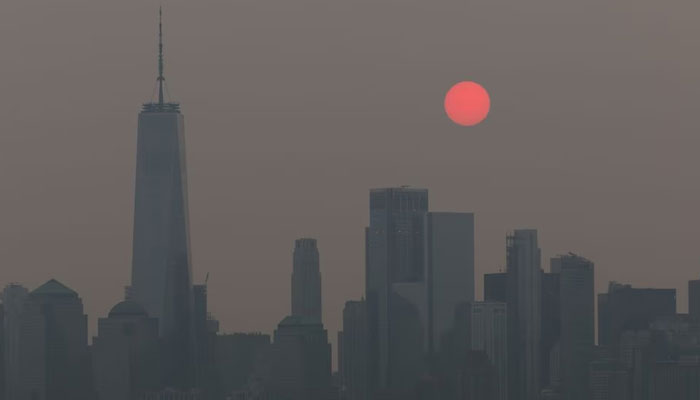 Authorities in the US have circulated an air quality advisory to over 100 million of its citizens as the smoke from the wildfires in eastern Canada has deteriorated the quality of air in the neighbouring territories of the world's largest economy.
The advisory is in effect from the Midwest and Texas to the Northeast, Boston, New York City and Philadelphia.
The smoke plumes arising after the wildfires in Canada can be smelled in the air and have made the sky appears hazy in parts of the US.
The high concentrations of smog — a mixture of pollutants made up mostly of ground-level ozone that can damage the respiratory system — are causing the health quality to deteriorate further for the city residents.
How air quality gets poor?
Dr Purvi Parikh, an allergist and immunologist at the Allergy & Asthma Network, said that the poor air quality can be caused by any airborne "irritant" — a particle or substance in the air that is harmful to a person to breathe in, "Some examples are air pollution, including from vehicles and carbon emissions, as well as rising ozone levels," said Parikh.
Wildfires like natural calamities often damage air quality as the smoke, which contains carbon monoxide and other chemicals, enters the atmosphere.
Dr Rarikh noted: "All of these things can be harmful because they can cause particulate matter that if you breathe in, can go deep into your lungs," she said.
An air quality index is used by US Environmental Protection Agency (EPA) to assess the quality which ranged from 0 to over 300, with levels below 50 regarded as healthy.
When it is measured beyond 150, the masses may begin to suffer from different symptoms.
How air quality affects health?
Dr Wynne Armand, a physician at Massachusetts General Hospital and associate director of the MGH Center for the Environment and Health, said: "Many of the health issues people see from poor air quality, in general, can overlap with health issues people see from wildfire smoke."
She also noted: "Air pollution from wildfire smoke can make breathing difficult for anyone, but especially for young children, older adults, pregnant women, and people with asthma or other pre-existing respiratory conditions."
The poor air quality can cause irritation to the eyes, nose, throat and lungs, as well as an increased risk of respiratory infection.
Longer-term effects cause several chronic health conditions, including:
Severe asthma
Preterm birth
Heart disease
Stroke
Lung cancer
Dementia
Lower IQ in children
Smoke can be especially dangerous for pregnant women because they usually have diminished lung capacities due to their growing bellies, Parikh noted.
How to protect yourself from air bad air quality?
Brady Scott, a fellow at the American Association for Respiratory Care, suggested people stay indoors as much as they can, with doors and windows closed. That includes activities like exercise, which can cause stress on the lungs.
People with respiratory-related health conditions, including asthma, should monitor their symptoms closely, he underlined, while adding that they should also "make sure their medications, like inhalers, are available or not expired."
"People know their bodies really well. If they see some changes they believe are related to bad air, perhaps they need to contact a physician or advanced practice provider," Scott said.
Parikh also advised people to keep their homes well-ventilated and also urged people to wear a mask while outside.
"Believe it or not, masking just like we did with COVID can be helpful in acting as a barrier between you and reduce the amount of particulate matter that you breathe in," she said.