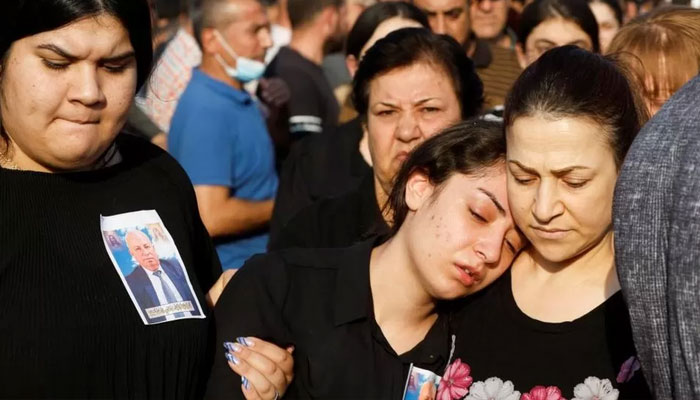 The devastating blaze at a wedding celebration in Qaraqosh, northern Iraq, has claimed the lives of over 100 people and left many more injured. Eyewitnesses have recounted scenes of horror and chaos as the fire engulfed the venue.
Nineteen-year-old Ghaly Nassim was nearby when the fire broke out at the al-Haitham banquet hall. He rushed to assist five friends trapped inside. Describing the situation, he said: "One door was blocked, so we opened it by force. Massive flames came out of the hall. It was like Hell's doors opened. The temperature was unbearable. I cannot describe the extreme heat."
The tragic incident occurred during the first dance of the bride and groom, and it remains uncertain whether the couple survived.
Nassim described the event as a "real tragedy" and recounted the horrifying discovery of 26 dead bodies in a bathroom, including a 12-year-old girl who had suffered severe burns.
According to the Iraqi Civil Defence media spokesperson, Gawdat Abdul Rahman, the fire was ignited by fireworks set off inside the hall, which used highly flammable building materials, exacerbating the situation. The lack of sufficient emergency exits likely worsened the tragedy as most guests attempted to exit through the main entrance, potentially leading to a crash.
Nassim confirmed that his friends had been found and were safe, but the search for missing family members continues for many.
Hospitals in the area have been overwhelmed by the injured. Dr Waad Salem, at Mosul's specialised medical centre for burns, reported that about 60% of those injured suffered severe burns, primarily affecting the face, chest, and hands, with women and children among the most affected.
Chief Nurse Israa Mohammed shared the challenging conditions at her medical facility, where they were struggling to cope with the high influx of victims and lacked adequate medical supplies.
The tragedy has left a deep impact on the community, with families losing multiple members in the fire. The whole region and the entire nation of Iraq are mourning this devastating loss.