MARDAN: At least one person was killed and 17 others wounded on Tuesday after a suicide bomber attacked an Excise and Taxation office in Mardan, police and officials said.
Eye witnesses said between 30 and 35 people were present inside the government office located in a densely populated area close to other government offices on Mall Road when the attacker detonated his explosives.
Mardan District Police Officer (DPO) Faisal Shahzad confirmed that the attack was a suicide explosion. He said the attacker fired two gunshots before entering the computer section of the office and detonating his explosives.
"We have found bullet marks on the gate, showing the attacker fired gunshots before he entered and blew himself up. Between eight to 10 kilograms of explosives was used in the bomb," said Shahzad.
The police official said initial investigation suggested the bomber was between 18 and 19 years of age.
"The attacker fired gunshots, causing people to panic and run away. This was one of the reasons the bomb did not cause as many casualties as it may have otherwise," he said.
18 persons were initially reported to be injured in the attack, while doctors said three of them were in critical condition. But one of the wounded later succumbed to his injuries at the hospital.
The injured, which included a journalist and a policeman, were shifted to the Mardan Medical Complex and the District Headquarters hospital, rescue workers said.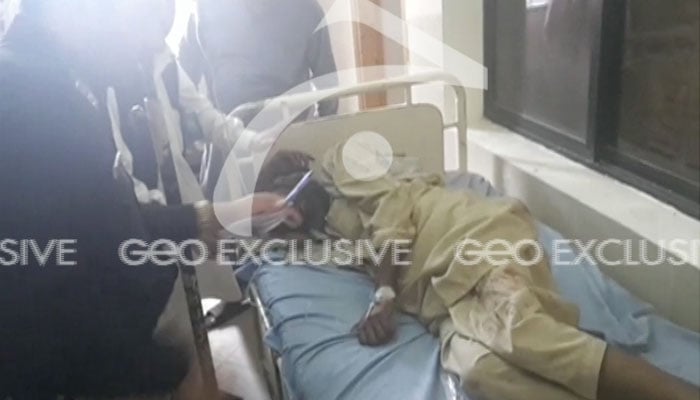 Photo shows man wounded in the attack being treated at the hospital
Police and security personnel cordoned off the site of the explosion and launched an investigation.
Mardan is the second largest city in Khyber Pakhtunkhwa and has suffered several acts of terrorism in the past as well.
The location of the suicide attack today is situated close to a National Database and Registration Authority (Nadra) office where a suicide bomber blew himself up in December last year, killing 26 people and injuring dozens of others.
The Jamaatul Ahrar, a breakaway faction of the Tehreek-e-Taliban Pakistan (TTP), had claimed responsibility for the suicide bombing last year.
Previously, Mardan city has been witness to bomb explosions, rocket attacks targeting army installations, and a daring failed assault on the Punjab Regiment Centre. Polio workers too have faced attacks and government schools were blown up.