Panama case in the history of the country was neither a small nor an insignificant ruling, as Prime Minister Nawaz Sharif narrowly escaped a decision in favour of his removal from the office. The Supreme Court in its verdict neither cleared nor gave orders for the premier's disqualification.
The apex court's ruling ordered further investigations into corruption allegations levelled by the opposition against PM Nawaz, saying there was insufficient evidence to order his disqualification.
The Panamagate gained attention worldwide and major media organisations gave proper coverage to the corruption case.
CNN: Pakistani PM must appear before new investigative team, court rules
The Cable News Network gave a detailed coverage of the issue. The US-based media organisation on its website also gave links to its previous coverage of the same topic.
The news agency in its article called it a ruling which 'could have seen him (PM Nawaz) ousted from office."
"Rather than finding for or against Sharif, the panel ordered a new investigation, which will seek testimony from the Prime Minister and his sons. The decision was 3-2," the report summarised.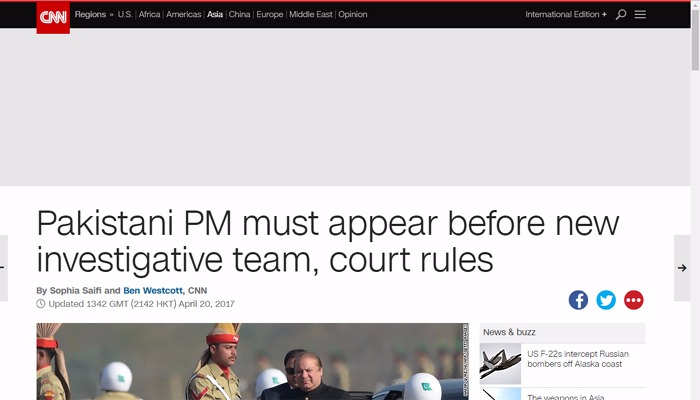 TOI: Panamagate: Pak SC orders JIT to probe corruption charges against PM Nawaz Sharif
The Indian publication Times of India gave an around 500 words report on the case. The across the border publication also quoted opposition leaders' stance following the verdict.
"The petitioners had asked the court to disqualify 67-year-old Sharif under Article 62 and 63 of the constitution because he was involved in corruption," stated the TOI report.

It also quoted former president Asif Ali Zardari's media talk.
"We did not resist when the Supreme Court disqualified [then premier] Yousaf Raza Gilani. We chose another prime minister. Nawaz should do the same," the article quoted the PPP co-chairman.
The Guardian: Panama Papers: court rejects call to oust Pakistani PM over corruption claims
The British news agency in a neat and easy to read article gave a detailed coverage of the Panama leaks case.
The report read: "Sharif has weathered the attack on his political career, but he does not emerge unscathed because the court's decision was inconclusive."
Not only that, the news team was meticulous enough to give a comprehensive background of the case.
"The London flats, bought between 1993 and 1996, are located at Avenfield House overlooking Park Lane. According to the leaked Mossack Fonseca papers, Nawaz Sharif's son Hussain and his daughter Mariam used the flats as collateral in October 2008 to take out large loans from the Swiss arm of Deutsche Bank," it mentioned.
NYT: Pakistan Court Keeps Nawaz Sharif in Power but Orders Inquiry of Family
The mainstream American publication's headline is pretty impressive in its own way. The publication throughout put the emphasis on the PM surviving the pressure the scandal and court proceedings brought upon him.
The comprehensive report also took analysis from lawyers and reactionary statements from the opposition.
The article summarised the SC verdict and the political rivalry between Imran Khan and the PM as: "The Supreme Court's ruling on the accusations, which stemmed from the Panama Papers that were leaked last year, had been highly anticipated, and it was a bitter disappointment to opposition parties, which had counted on the court to remove Mr. Sharif. Pakistan's most prominent opposition politician, Imran Khan, had said before the ruling that it would be a 'defining moment in the country's history.'"