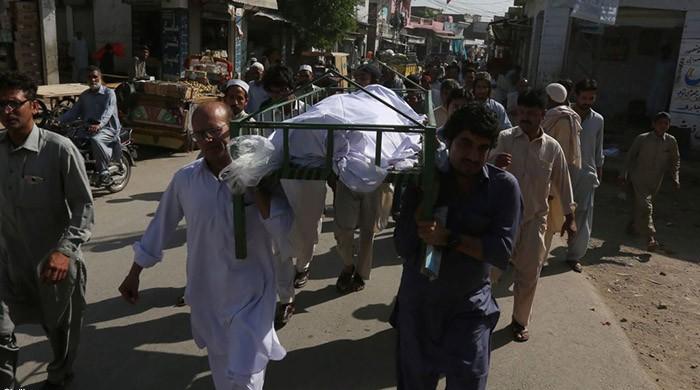 I did not know Mashal Khan. In fact, I had never met him.
But his father I had, a few times in the past. We are both poets, you know, which is rare. There are not too many of us. That doesn't mean we are friends either. We don't even live near each other. My village is 18 kilometres away from his.
On that day, April 13, I got a call from a friend who works for the Voice of America. Something big had happened in the area. A young man was killed for allegedly committing blasphemy. Now, I am a little suspicious of such accusations. There have been incidents in the past where blasphemy was used as a pretext to settle personal scores. So I made a few calls. And I was right.
Relatives, friends and acquaintances told me, "Lala jee, the boy was very intelligent," "He was against the college administration which was acting like a mafia," "Blasphemy was a false charge."
Let me make this very clear. I am a good Muslim. I pray five times a day, read Durood Sharif 500 times every night. I love my religion. I love my Holy Prophet (P.B.U.H).
Let me also tell you that I am a father of three - two girls and one boy.
At 9:00 a.m. the next day I decided to attend the funeral prayer of Mashal Khan. Before I left my house, I quietly packed my licensed gun. I was expecting trouble. Then, I hopped into a car with some friends and drove off.
When we reached, Mashal's house was almost empty. People had stayed away, after a neighbourhood Molvi warned on his loudspeaker that those who attend the funeral will have committed kufr (sin) and will be immediately divorced from their wives.
Well, I thought, my wife has already passed away. What do I have to fear?
Gripping my gun tightly, I signalled to my friends. We arranged ourselves in a straight line. Our heads bowed, our hands clasped. But there was still no one to lead us. Desperate, Mashal's grieving father asked a man named Shah Wali to help him. He was a stranger. He wasn't an Imam. Yet, he agreed, when everyone else refused.
As the prayer started, there were only four of us.
All this while a homeless man had been watching the happenings. I don't know why, but just then, he got up and ran barefooted into the streets. He called people to come out of their homes. He begged them to pray with us. Slowly, the crowd began to grow.
Mashal Khan deserved a bigger funeral.
I have been told that my actions gave people the strength to stand with Mashal's family. Maybe they did, maybe they didn't. Either way, I went that day to attend a funeral, and so I did.
As narrated to Geo.TV by Yousafzai, a social worker of the Awami National Party, and the man who arranged the funeral prayer for Mashal Khan, a young boy lynched to death by his fellow students at Mardan's Abdul Wali Khan university on April 13.