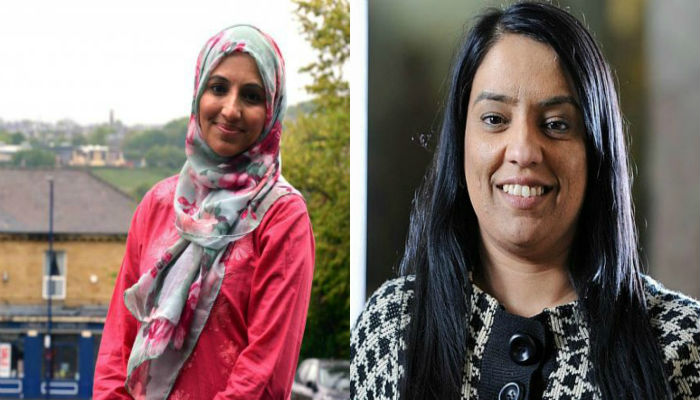 LONDON: Two British Pakistani community members reportedly indulged in 'dirty politics', assassinated the character and incited hate against Labour party's Bradford West female candidate Naz Shah, who is seeking re-election in the June 8 election.

The two used obnoxious and misogynist language against Shah at two separate events, which were held in support of her rival independent candidate Salma Yaqoob.
Asim Hussain, speaking in English, and senior Labour activist Pateh Khan, speaking in Urdu, made objectionable and sexist remarks targeting gender, appearance and the character of the Labour politician.
However, not a single person from the stage or the audience challenged these highly obnoxious remarks.
Pateh Khan, in his speech at the Khidmat Centre in Bradford West, went to the extent of likening Shah with a "dog" and then launched a vicious assault on her person and character, which was completely unchallenged by around 200 audience members.
Directly addressing the audience, the senior community figure urged voters not to support Shah.
In a video, he can be heard saying, "Even when we adopt/buy a dog, we carefully look for its pedigree, lineage and character. What are you looking into her? What is Naz Shah promoting? What does her dress, her lifestyle, her character demonstrate? What will be the impact of her on our next generations? First of all we all Muslims, all praise be to God."
Pateh explained to the audience that he objected to Shah's interview to BBC on local issues faced by the community. He claimed that Shah had called some members of the community 'corrupt' and 'unwise', especially those who impose their decisions on women and expect others to follow their rules.
He said he was saddened that "both the old and new generations are standing shoulder-to-shoulder with Shah. I feel sorry, can't they see what she [Shah] is saying?" He then went on to draw a resemblance between the Labour candidate with dogs, questioning the judgment of the Labour Party for giving her ticket and the local community for voting her.
In another video, which was recorded at the launch event for Salma Yaqoob, cleric Asim Hussain urged the voters to support the "better Muslim" between Naz Shah and Salma Yaqoob. The audience clapped and welcomed his sexist remarks.
He said: "Two Muslim women are standing, two Muslim women are standing. Who is the most Muslim? That's where we should vote [he says pointing towards the stage]."
To which an audience member remarked, "That's Salma Yaqoob."
Hussain further said, "for this reason [of being a better and more Muslim] I urge everyone to think independently and use your vote for the one who most represents us, who represents our community, who will speak for own people and that's respectable and respected Salma Yaqoob."
Shah defeated George Galloway in the 2015 elections on Labour's ticket. She has a majority of around 11,000 votes but faces challenges from the Conservative Party's Yaqoob.
Shah's Bradford West constituency has more Muslim voters than any other constituency in Britain. The number of registered voters in Bradford stands at 40,290, out of which 20,669 are eligible Muslim voters which is nearly 51 percent Muslim votes.
Neighbouring Bradford East constituency has the second most Muslim votes. In total, there are 41,406 voters, out of which 15,299 are eligible registered voters are Muslims, which stands at 37 percent.