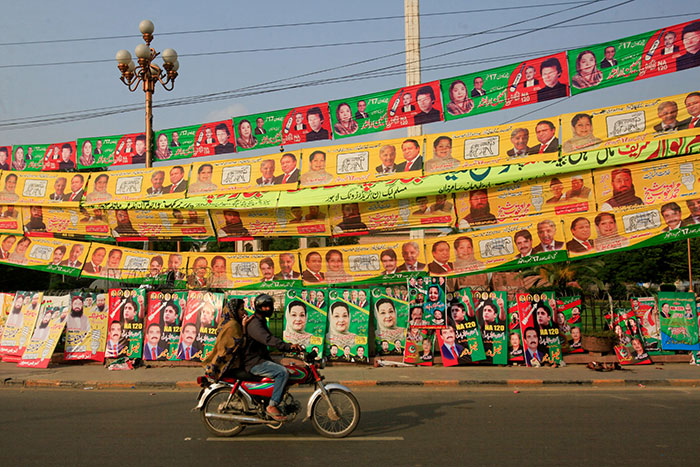 Sunday's electoral contest is the PML-N's first real street test after losing both the Panama Papers case and the subsequent review petitions, and the party knows well the symbolic value of an electoral victory after a judicial loss. 
Many feel that had Kulsoom been campaigning herself, it would've been a done deal for the PML-N owing to her roots and overall persona. However, Maryam more or less ran her father's campaign here in 2013 and probably will not disappoint this time around either.
In the same vein, the PTI will be hoping against hope it can somehow ride the post-Panama wave into a victory. In its favour is the fact that in the October 2015 by-election on NA-122, PML-N's Ayaz Sadiq managed to retain his seat against PTI's Aleem Khan only by a margin of a couple of thousand votes.

In the constituency, the vote of Islampura's substantial Shia community is significant — the Majlis-e-Wahdatul Muslimeen has announced its support for PTI whereas the Tehreek-e-Nifaze Fiqh-e-Jafria is standing behind Kulsoom.
Moreover, the area boasts a majority Barelvi Sunnis, who are allied with Nawaz owing to his close relationship with Jamia Naeemia. Others, their on-ground value aside, who have announced siding with PML-N are Jamiat Ahle Hadith and Jamiat Ulema-e-Pakistan whereas the PTI is supported by PML-Q and Pakistan Awami Tehreek.
PPP too has made a comeback this time around compared to the 2013 polls, reinvigorating its erstwhile slumbering jiyalas. However, it'll only be denting the PTI vote and favouring PML-N in this two-way race.

The area's politics revolve around what is referred to as dharray baazi, an intricate system involving groups of influential persons who boast money or goons or most often both. He who's close to the government and police calls the shots in the area. "If your ancestral land is being encroached upon, what do you do? The police are useless and the courts too expensive. You go to a bigger land grabber and strike a better deal," said another Lahore resident.

A resident of the area claimed the PML-N's election offices vastly outnumber the PTI's. However, Imran's party has substantial support in Krishnagar and Mazang whereas Sharifs can all but claim the more 'rural' area on the other side of Bund Road, according to the resident.

It'll be an uphill task for Dr Rashid, a middle-class party worker with no official backing, to break this complex web of loyalty, money and power.
Locals that Geo.tv spoke to believed the PTI's main constraint is its lack of organised structure at the level of local bodies as it is the councillors and nazims who can bring a victory like this home as their tentacles are spread in every neighbourhood.
Most reports indicate PML-N will bag the seat, albeit with a smaller margin than the general election (by-election turnout usually lower than a general election's). Though rumours of rifts among the Sharif brothers are rife, a political observer pointed out Maryam's use of Shehbaz's Model Town office to run her mother's campaign as proof of everyone being on the same page. However, Hamza and Shehbaz's total absence from the scene at this crucial juncture doesn't help churn the rumour mill any else.