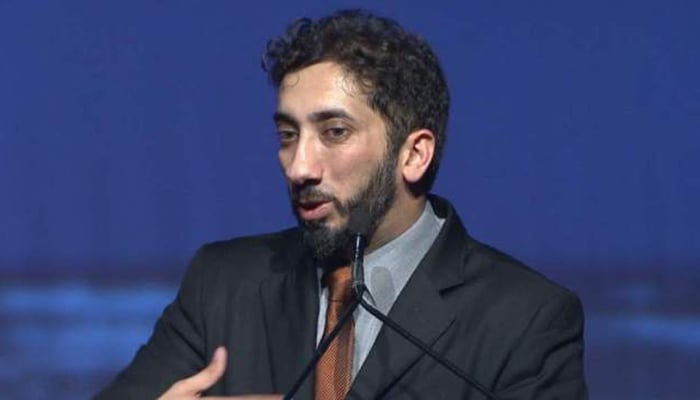 Pakistani-American preacher Nouman Ali Khan has insisted that a "theatre-free environment" be provided for allegations against him of having "inappropriate interactions with various women".
"Let us get to the truth of this as I am weary of the way things have transpired," he wrote in a post on his official Facebook page on Saturday. "People knowledgeable in Islam should not be solving disputes through hearsay and a public spectacle."
The popular Muslim speaker who claims to be 'an avid and passionate student, teacher, and lecturer with a focus on Allah's book' has been accused of "violating agreed-upon bounds of Islamic law" by Omar M. Mozaffar, who claims to have known the preacher since twenty years.
Khan, who has not denied his interactions with women, insists that all the conversations took place "between consenting adults" and were not "inappropriate in the least bit".
Two posts on the speaker's Facebook page explain that the reason Khan was in touch with different women was because he wanted to remarry after being divorced for two years. He added that female students on his campus have never claimed and '…[never] will claim that I've been appropriate in the least bit.' He also wrote that his family was aware of the communication between him and "a few prospects".
The communications were used to slander him 'to manipulate the facts and present a narrative…to fulfil [the accuser's] own agenda.'
On Friday, Mozaffar posted a public status on his personal Facebook profile, claiming that Khan had "confessed inappropriate interactions with various women" and that he had been acting as a mediator between the scholar and the accusers. He said that the local Muslim community of Dallas had asked him to investigate the allegations due to his "experience in similar previous cases, as well as [his] longtime relationship" with the preacher.
According to Mozaffar, who claims he was asked to mediate the case between Khan and the scholars, the preacher had "agreed to stop public speeches until further notice, to get professional and religious counselling, and to cease all contact with those women."
"Nouman has now broken his agreement with us and has been sending threats against each of us through his attorney," Mozaffar wrote.
Khan has denied that Mozaffar is a longtime friend. "The individual who posted these claims against me posed himself as a mediator and unfortunately, he was anything but," wrote Khan. "He claims I've known him for twenty years. I've spoken to him in friendly ways no more than a couple of dozen times in that entire span [...] I know little to nothing about his family and he knows virtually nothing about mine. To claim he's my friend of 20 years to insinuate that he knows my personal life is really far from the truth."
Khan alleged that Mozaffar's post was an attempt to seek the limelight through scandal.
The Director of Religious Education and Social Services at the Islamic Information Society of Calgary Navaid Aziz also posted a status on his official Facebook page, backing Mozaffar's claims.
"The accusations against him [Khan] have been verified by multiple people, and some of them have even been confessed by him," the status said.
"This case has been brought to the public sphere because NAK had agreed to several conditions and went on to breach the contract," he wrote. "As a general case people's sins should be concealed except when there is potential harm to others. Trust me no one wanted this story out there and it is only coming out for the sake of protecting our sisters and communities."
Khan expressed concern that his life's work will be ruined due the to allegations and the accusers' "disparaged him in the most vile of ways". "While I was in Mecca for Umrah, they held public gatherings attempting to rip my character to shreds allowing me no opportunity to even defend myself," he wrote.
The case took a new turn when a lawyer Rabia Chaudhry posted screenshots of alleged conversations between Khan and "different women" on her verified Facebook profile late Saturday.
Khan is the CEO, founder, and lead instructor of a religious studies' school, Bayyinah Institute.