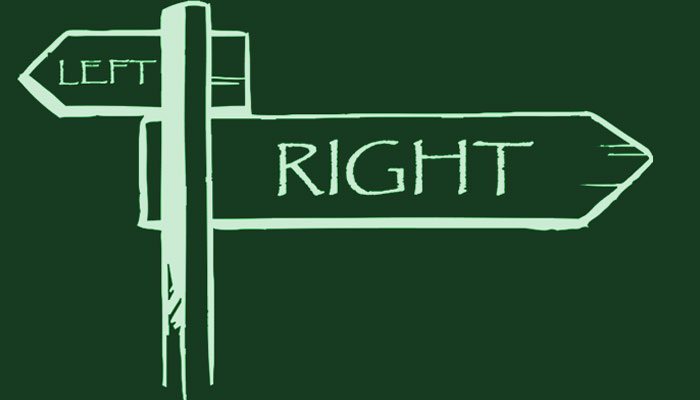 Pakistan stands at a crossroads, once again. We have been here before, asking ourselves: Which way do we turn? Left or right?

Pakistan's armed forces, its government and it public all have their own opinions about the direction we, as a nation, should take. A European diplomat once said that our country was lucky for being repeatedly given a chance, but its decision makers were unlucky for repeatedly choosing the wrong path.
Will we keep moving in circles, or this time will wisdom finally prevail?
Post the 1998 elections, politician and crusading democrat, Nawabzada Nasrullah Khan, may God bless his soul, advised President Ghulam Ishaq Khan that the right way forward is the one that is easy to see and easy to travel upon, but only if ill-intentions and personal motives do not hide it from view. Those remarks were delivered at a time when the Pakistan People's Party had won 94 general election seats in comparison to the 56 bagged by its rival, the Islami Jamhoori Ittehad. Ishaq has a decision to make about who had the right to rule. But prejudice blinded the president, and obscured from his view the right way forward.
70 years on, we are yet again besieged by the same question: Does democracy work? Should a presidential form of government replace our parliamentary one? Do we need accountability before we can hold elections? These questions are a waste of our time, especially since they have been answered by the founder of our nation, Jinnah, who always spoke against dictatorship and in support of democratic credentials. In fact, he laid down the foundations of a parliamentary democracy in Pakistan. Even if the late Sharifuddin Pirzada is to be believed, whose recently discovered diary claims Jinnah was in favor of a presidential system, the Quaid had never stated so publicly.
As for accountability, that process should continue without putting off polling. Remember 1977, when a 90-day delay in elections tuned into an 11 year one? That mistake should never be repeated.
The debate – civilian government or martial law – is a little outdated now. Even those who can impose military rule are now themselves aware of its drawbacks. A nuclear-armed state, with a well-regarded professional army, needs to keep its assets well hidden from the prying eyes of outsiders, who might not be friends. This how the world around us is progressing and we should keep up. This is what our founder believed in and this is what our constitution states.
There was something else Jinnah did in the early years of Pakistan; he laid down the ground rules for our foreign policy. Such as our approach regarding the Kashmir Valley, our friendly ties with other Muslim countries, our aid and relations with the United States, were all tirelessly outlined by Jinnah, despite his frailty and ill-health.
To promote better ties with America, Jinnah appointed Mirza Hassan Isphani as Pakistan's first ambassador to the United States. In fact even before Pakistan's birth, our Quaid had announced that the US would provide aid. After Pakistan was created, he wrote to the US president asking for assistance. From the start, Jinnah's US policy gave us benefits, while abandoning it has only resulted in problems.

But there is still time for us to form an America-centric policy along the lines of what Jinnah envisioned, of course after prioritizing our national interests.
There is also more to learn from the father of our nation: his behavior towards opponents. Today, we make allegations of treachery against our rivals, call for fatwas to be declared against them, which is very unlike the man we call our Quaid. Despite facing opposition from Ghaffar Khan, Jinnah personally met him. Maulana Maudoodi, another critic, was allowed to carry on with his program on Radio Pakistan.
It was only after his death, in 1949, that the first accountability law, the Public and Representative Office (Disqualification) Act (Proda), was introduced, using which Abdul Sattar Pirzada, Hussain Shaheed Suharwardy, Muhammad Ayub Khuhro and Zulfiqar Ali Khan Mamdot were disqualified. It took another five years for the parliamentarians to finally bin the damaging legislation. Then-prime minister, Mohammad Ali Bogra, declared the law null and void in retrospective enactment, thus rendering all disqualifications under it to be reversed. An interesting fact here is that all these disqualifications came about through the courts and were reversed by an executive decision. An act which incensed the Governor General Ghulam Muhammad who in response dissolved the parliament.
We seem to be headed down the same path. It would be apt to remember that history today remembers Mamdot, Khoro and Suharwardy with glowing tributes while it isn't too kind to Ghulam Muhammad.
Now, on to some other questions. Is the war against terrorism Pakistan's fight? Were we harmed by internal terrorism? While the state is clear about waging a war against terrorists, it is still unclear about its jihadi assets. There is much talk today about cleaning up our house. But then there are some who believe our house is already clean. General Jahangir Karamat had famously said that our jihadi policy is past its expiry date. The world does not look upon it favorably either.
And let's be clear, we cannot fight the entire world.
Khawaja Asif, Pakistan's newly appointed foreign minister insists we need time to bring our house in order. But by delaying it, will the problem disappear? To solve such crises we need to unite and be brave. Both things seem out of bounds for a government many call 'weak' under Prime Minister Shahid Khaqan Abbasi.
Delay in holding elections will benefit no one. Holding them on time will ensure that whoever comes on board next can help solve these problems. But it seems like this remaining year will be spent watching a tussle unfold between Nawaz Sharif and some very powerful forces. With new polls the voters would tell Pakistan who they favor and eventually the back and forth will subside.
Personally, I have my doubts about whether Abbasi, even with his considerable hard work, will be able to take this government past the finishing line a year from now. The best solution for all parties is to call for early elections, as soon as possible. Whenever democracy is in trouble, elections are the way out, and that is true even today. We are at a low, with regards to our foreign policy. This is the time to remember Jinnah, keep in mind the national interest, global peace and move forward.
---
Note: The views expressed in the article are those of the author, and do not necessarily reflect the official policy or position of Geo News or the Jang Group.