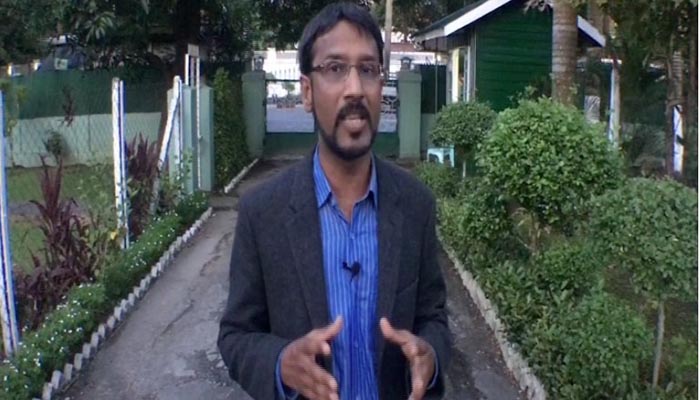 At first, we thought we were lucky. Two Pakistani journalists handpicked to travel to Myanmar, to document and broadcast the exodus of the Rohingya refugees. We were not the first to go from Pakistan, but we were definitely among the select few. But, soon after arriving, the pride and self-confidence drained from our bodies and luck was nowhere to be found.

Right from the start, cameraman Adnan Yahya Saeed and I knew that this would not be an easy task. Myanmar's Rakhine state was embroiled in violence, sending many poor Rohingya families to flee for safety. There seemed to be much panic and anger in the country we were walking in. 
I was even more cautious due to my past experiences. In 2013, I ended up in a Lebanon jail, albeit for a few hours, when caught using the banned Thuraya satellite phone. Then in Syria, we were interrogated for illegally recording in Homs, when we only had permission for Aleppo. Because of these experiences, when we hit the record button near the house of Myanmar's de-facto leader Aung San Suu Kyi in Yangon, I was nervous.

I soon realised that the feeling of foreboding wasn't unreal.
Back at the hotel, after the day's shoot, the receptionist called us to the front counter and told us to leave immediately.
"Why?" I asked after a short altercation.
"A group has just booked all our rooms," she replied coldly.
But we had booked ours first. She wouldn't budge and I was in a foreign country. There was no one we could seek out for help.
So, we packed up and left. Saeed called our rent-a-car driver, Haroon, who understood a few words of Urdu, for suggestions on where to stay. When Haroon came, he dropped a bombshell on us. 
A Facebook post, he explained, was being shared since last night that accused us of attacking the Shwedagon Zedi Daw, a revered stupa in Yangon. Not only that but the Facebook account, Ko Ko Oo, claimed that we were in contact with Pakistan's spy agency and the militants of the Arakan Rohingya Salvation Army. The post detailed our passport information and our place of stay.
We panicked and asked our driver to rush us to the Pakistan embassy.
Pakistan's Ambassador Dr Khalid Memon listened to our hurried monologue patiently before we asked his staff to translate the posts as well as the accompanying comments. 
The diplomatic staff at the embassy suspected that the passport leaks may have come from Myanmar's intelligence agencies who have been obstructing journalists from reporting on the issue.
We knew we had to leave as soon as possible. Until our flight back to Pakistan could be finalised, we took refuge in the embassy. The next day as we left for the airport, we noticed a large contingent of police officers deployed outside the building. Later, we were informed that the police were there in light of reports that some Buddhist groups were on their way to the embassy.
When the plane finally took off, I looked out the window at the darkness beneath us. I had come here hoping to uncover the atrocities and report back; instead, I became the news myself.