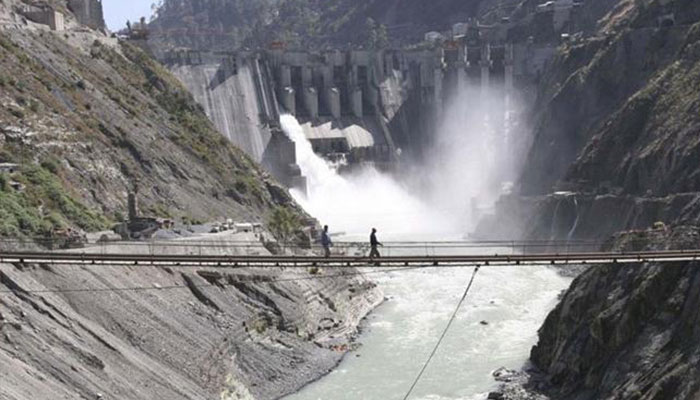 ISLAMABAD: The Wapda chairman Tuesday admitted before the Public Accounts Committee (PAC) that there was no work done on Bhasha Dam project during the last 10 years, but the project would be started next year and completed in nine years.
During a briefing on the Islamabad Safe City project at the Parliament House, the PAC was informed by the Nadra chairman that the 23 missing person were traced and 190 stolen cars recovered, while there was 60 per cent reduction in car theft.
The meeting chaired by PAC Chairman Khursheed Shah was given the briefings on the Naulang Dam project and the Islamabad Safe City project. The Nadra chairman said 1,700 cameras were installed, while 244 additional ones were monitoring the record of car licence plate. The cameras could identify the people on watch list, he added.
Senator Azam Swati observed that the terrorists were smart as they had more sensitive instruments. "There was a need to give Islamabad Police more powers and freedom like the Motorway Police," he remarked. To a query of Senator Chaudhry Tanveer, the Nadra chairman said the Safe City Project was initiated with the cost of $124 million and its command centre had been established in the bomb-proof building.
In the briefing on the Naulang Dam project, former Wapda chairman Shakil Durrani said it was on the priority list of former president Asif Ali Zardari and he directed the then former finance minister Abdul Hafeez Sheikh to release the funds but he did not do so.
During the meeting, senior parliamentarian Mehmood Khan Achakzai and Durrani exchanged harsh words when Achakzai asked if the funds were not released then why the tenders for the project were offered thrice.
Durrani replied when the funds were not released, how the Wapda could initiate the project. Khursheed told him, "You were a senior bureaucrat and could speak on a high tone, we can also yet we restraining from doing that. If the projects were completed on time, around 200,000 acre of land would have been irrigated and the underground water situation also improved."
The Wapda officials said the initial cost of the Naulang Dam project was Rs 9 billion but it crossed Rs 31 billion due to the delay, adding that the project was initiated in 2009 and supposed to be completed in two years, but had not been started yet. They said Rs 36 billion had been released to Wapda in the current fiscal year and the committee should guide them as to which project should be started. Khursheed formed a sub-committee to examine the issue and prepare a document for legislation for public sector development projects.
Originally published in The News