LONDON: Prime Minister Shahid Khaqan Abbasi on Wednesday accepted Finance Minister Ishaq Dar's request to be relieved of his duties, reported Geo News.
Dar was relieved of his three roles, including his portfolio in the finance ministry, and has been informed of the decision. The matter and the contents of the letter, earlier sent by Dar, were also discussed by the premier with former prime minister Nawaz Sharif, said sources. 
He would remain a federal minister and a leave of absence of three months has been granted to Dar.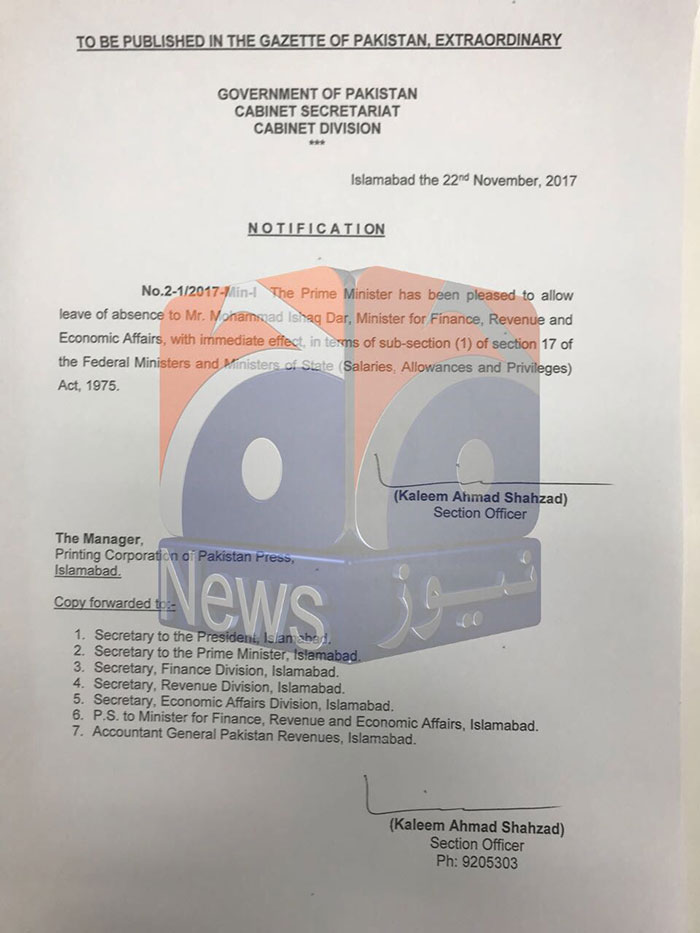 A notification issued by the Cabinet Division stated that the prime minister is "pleased to allow leave of absence to Mr. Mohammad Ishaq Dar, Minister for Finance, Revenue and Economic Affairs, with immediate effect in terms of sub-section (1) of section of Federal Ministers and Ministers for State Salaries, Allowances and Privileges Act 1975". 

Dar had arrived in London around a month ago and has been seeking treatment at a Harley Street hospital. He has been attending the clinic for treatment three times a week and also spent a week in the hospital.
He stated in his letter to the premier that he wishes to seek "relief for now from looking after the three divisions" that he has been heading for approximately four years.
In his note, Dar said that since October 27 - a day after which he complained of acute pain and heaviness in his chest - he had been attending to all of his office work through correspondence and all available means of communication depending on the nature of the case.
"Although, since July 2017, there have been number of developments which have negatively impacted the economic outlook of the country but it is our duty to work even harder in order to ensure macro-economically stable Pakistan on a sustainable basis," he stated.
"Under the circumstances, I feel that it would be appropriate to avail the leave of absence (without Salary) for urgent reasons of health in accordance with Section 17 of the Federal Ministers and Ministers of State (Salaries, Allowances and Privileges) Act, 1975, until my medical situation improves."
Geo.tv learned earlier that Dar spoke to former prime minister Nawaz Sharif and took him in confidence prior to writing the letter to PM Abbasi seeking relief. It's understood that Nawaz Sharif advised him that in the current circumstances, it was best to let the PM run economic affairs of the country through an advisory committee of economic experts.

A source in the PM House, when reached for comment earlier, had said that the PM was aware that Dar has requested to step aside from his role in view of his medical treatment in London. 
The source added that the whole cabinet is of the view that Dar provided excellent leadership to Pakistan's economy and helped turn around Pakistan. He also said Dar took the economy in dire straits from the previous government and had worked selflessly for Pakistan.

A source close to Dar said that he never had any issues with unanimous decisions of his party colleagues and leaders of the party. The source refuted reports which had suggested that Dar was clinging on to his role despite reservations from his party colleagues and party leaders.
The source added that he had performed brilliantly for four years and not only stabilised but also provided the right direction to the economy of Pakistan. The source said that Dar and the Sharif family are being victimised through courts and that fact is known to all.
Dar has always respected courts and will appear before the courts once his health recovers and is he allowed to travel. It's understood that doctors have advised Dar to travel only when he is medically fit.
An accountability court in Islamabad had declared the finance minister a proclaimed offender, rejecting his plea for exemption from appearance. 
NAB had announced last week that Dar will be reinvestigated in the Hudaibiya Paper Mills case. NAB is initiating reinvestigation into the case to fulfill legal requirements in the light of a Supreme Court verdict, the anti-graft body said in a statement.
A corruption reference pertaining to Dar's owning assets disproportionate to his known sources of income was filed by NAB in light of the Supreme Court's July 28 judgment in the Panama Papers case. 
Dar has denied any wrongdoing and says cases against him are politically motivated, aimed at getting Nawaz Sharif and family punished through him.
Below is full draft of Dar's letter to the prime minister: