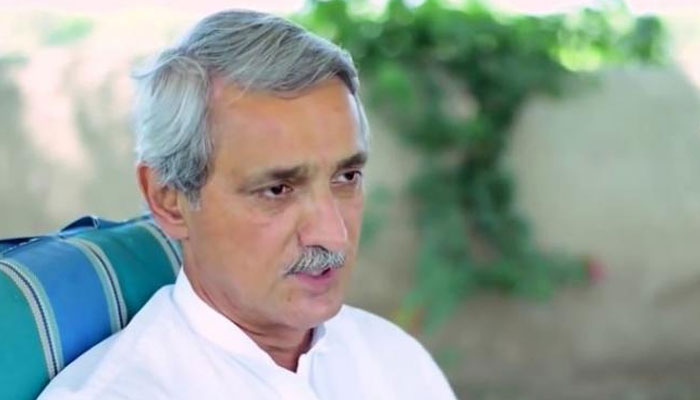 ISLAMABAD: Pakistan Tehreek-e-Insaf (PTI) secretary general Jahangir Tareen has decided to step down from the party post, sources told Geo News, after the Supreme Court disqualified him as member of the Parliament.

The apex court earlier today disqualified Tareen but ruled in favour of PTI chairman Imran Khan in its judgment on the disqualification case against the two party leaders. The PTI secretary general had pleaded guilty to insider trading.
Sources said Tareen decided to step down from the party post during his meetings with PTI members. Asad Umar remains a strong contender to replace Tareen.
Tareen has also consulted his close affiliates over quitting politics, sources further revealed.
Earlier in the day, PTI spokesman Fawad Chaudhry said that Imran Khan has directed Tareen to continue performing duties as secretary general of the party.
The PTI spokesman said the apex court should make decisions on the basis of merit rather than 'creating a balance.'
The Supreme Court, in its judgment on Friday, ruled that Tareen cannot be termed honest and stands disqualified for life as per Article 62(1)(f) of the Constitution. It also said the PTI leader used suspicious terms in his statements to the court, besides not declaring his offshore company.
"Tareen fell victim to the effort to create proportion between things," Chaudhry remarked, while speaking to newsmen here.
A final decision pertaining to Tareen's party position is expected at a meeting of the PTI's core committee on Saturday.
Tareen gone, Imran stays
Chief Justice of Pakistan Justice Saqib Nisar, who headed the three-member Supreme Court bench hearing the case, ruled that Imran is not disqualified as a parliamentarian as the petitioner was not directly affected in the foreign funding case.
The court also ruled that the ECP will impartially investigate the foreign funding claims against the PTI chief by scrutinising accounts up till five years ago.
The judgment stated that Imran wasn't bound to declare his offshore company, declared his London flat in an amnesty scheme and that his former wife Jemima gave him the funds for buying the Bani Gala estate.