SUKKUR: Pakistan Peoples Party Chairman Bilawal Bhutto Zardari reiterated on Thursday that former president Pervez Musharraf is a murderer and involved in multiple cases, with more blood on his hands. 
Bilawal's statement comes a day after commemorating the 10th death anniversary of Benazir Bhutto.
"If he is not a coward, he should come to Pakistan and face the courts," Bilawal said while referring to Musharraf. 
On Wednesday, in response to Bilawal terming him Benazir's murderer, Musharraf denied any involvement in the assassination of the former prime minister. "I am not the murderer; ask Rehman Malik why he stopped the cavalcade carrying Benazir Bhutto."
The former president also raised questions about the slain premier's mobile phone and post-mortem, which could have led to some clues about the high-profile assassination.
In an interview with the BBC, the former military ruler had claimed that certain elements from the establishment may have been involved in Benazir's assassination. 

While he is in Pakistan, Musharraf blames Zardari for the murder and when he gives an interview to the BBC, he states that may be certain elements of the establishment are involved, said Bilawal referring to the BBC report published earlier. 

Referring to former prime minister Nawaz Sharif, Bilawal said he is a compromised politician. 
The PPP chairman added while speaking at the Sukkur Press Club, that Nawaz was never an ideological politician and can never be one. 
Referring to the upcoming general elections, Bilawal said polls will be held on time and will be held in a peaceful manner. 
"Pakistan is a young and fragile democracy," he said.
Bilawal added that they will be contesting against the PML-N as they do not have confidence in their governance. 
Bilawal while mocking Pakistan Tehreek-e-Insaf Chairman said "whenever Imran Khan visits Sindh and is addressing empty chairs, his tone gets harsh".
"Both are favoured and fighting with each other," said Bilawal jibing at his rivals the PML-N and PTI.
Reiterating his support for PAT's Dr. Tahirul Qadri, he said the PPP will support Qadri morally and politically in their struggle for justice.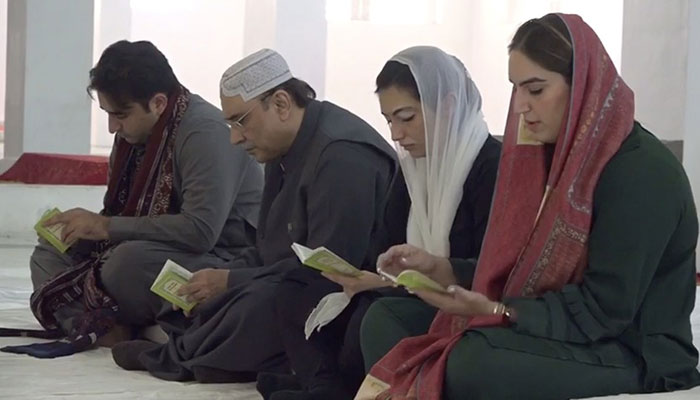 Talking in regards to the judiciary, Bilawal requested the courts to provide him with the justice he deserves. 
He also said, while addressing the media, that the journalistic community is weakening in Pakistan and the state of journalism is in crisis. 
Earlier today, Bilawal, along with his sisters and father, paid a visit to the mausoleum of Benazir and Zulfikar Ali Bhutto. The family recited the Holy Quran and showered rose petals at the graves.