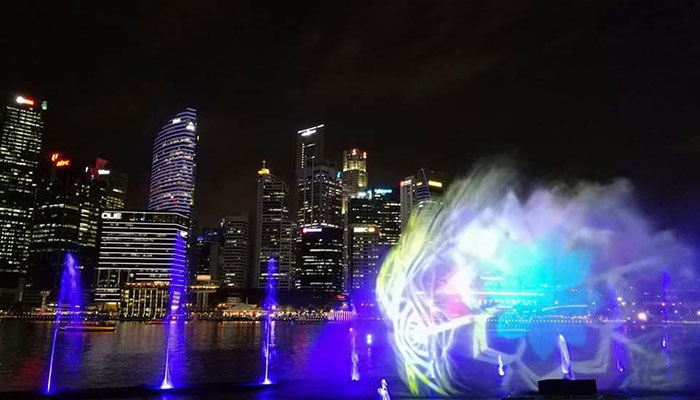 Continued from 'Travel guide of two Pakistani female travellers'
On arriving in Singapore, I was exhausted but brimming with excitement. Slowly, we made our way to the immigration counter. The young girl behind the desk, had a calm demeanour. She checked our passports and then led us separately for further interrogation. We were directed to sit in a waiting room. I must admit that I got a little nervous as they took our travel documents and scrutinised our itinerary. To our dismay, we were perhaps one of the few passengers who were held back for questioning. Wonder what raised their suspicions about two young women travelling alone?

Finally, a pleasant-looking immigration officer introduced himself and promised us that it would not take long. Next, began the litany of queries. Where are you staying? Why are you travelling to Singapore? And twice he asked us when and how will we leave the country, as if he was unconvinced by our answer.
Once he let us go, we had to quickly collect our luggage and get through immigration, which meant missing out on an opportunity to check out the airport which is aptly ranked as one of the world's finest.
The first thing to do after reaching a destination, where you intend to stay for more than two days, is to buy a local SIM card. Especially if you are on your own. Also at the airport, we bought a three-day Mass Railway Transport card, which we used to our hearts' content.
Luckily, the transportation system in Singapore is one of the world's best and easiest to navigate through. Almost drained of energy now, we swiped our cards and boarded the high-speed train.
From the train's station our hotel was a four minutes walk. Our room was grand, much to our surprise. It wasn't large or spacious, but it was clean and aesthetically pleasing with every basic necessity (sans a Muslim shower, but that's part of the deal).
After dumping our luggage, we walked around the neighbourhood to grab a bite to eat. The hotel was located in an area called Little India, which meant that it had plenty of South Asian cuisines.
Usually, when travelling, I fuss over halal food a lot. Luckily, Singapore is a delightful gastronomical heaven and offers several halal options.
We both agreed on an Indian restaurant with an open sitting area. My friend is a huge fan of a local dish, Nasi Goreng, while I placed an order for a dosa, which was a bad decision. Little did I know then that this was the start of a gastronomical bad luck.
Next on our list was some Couchsurfing. If you haven't heard of couchsurfing, it is a global travellers' platform that connects locals with foreigners who they can then host as guests. Mindful of the fact that we were two girls travelling alone, we were careful to only meet up with people with decent recommendations.
Our first couchsurfer was Sanjay from India. He was a middle-aged man who had settled in Singapore with his family years ago and actively hosted fellow travellers. Sanjay showed us around while we discussed everything under the sun from cricket, to Bollywood, to the sub-continental diaspora in Singapore.
As we moved through the city, I couldn't help but ogle at the marvellous urban infrastructure. The mosques, the churches and the temples right next to each other. Finally, we arrived at Raffles, a posh tourist heaven by the seaside lined up with upscale eateries.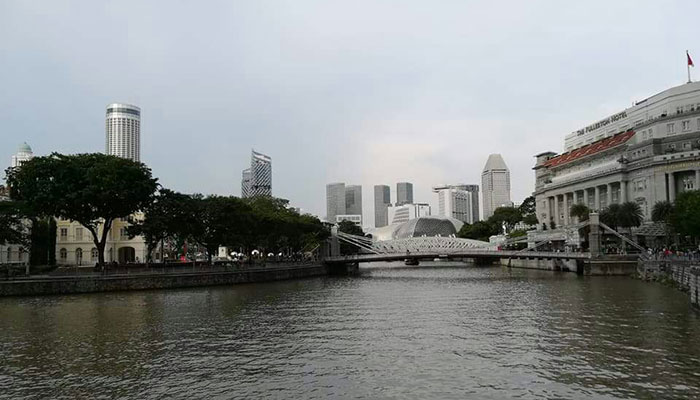 We stayed at the place for a while, taking pictures before we met our next tourist friend, Charlie from Poland and a local named Nelson. Without wasting a minute, we set off for another site, the most popular tourist attraction in Singapore, Marina Bay Sands.
Nearby was a Louis Vuitton store I wanted to check out. Here, a pair of sunglasses cost more than my month's salary. Oh well.
Once done with commercial tourism, we stepped into the Gardens of Bay, which as my Polish friend described, rightfully, looked like a scene out of the movie the Avatar. One thing which is a refreshing break from home, is the security. Women, in Singapore, can carelessly and freely roam around the streets. We too savoured this limited period of freedom.
They say every country has its distinct aroma, to me Singapore was wrapped in the smell of Southeast Asian cuisines and strong coffee. Although if you are big on doodhpati and creamy lattes you are in for disappointment. The locals like aromatic but weak tea, with lots of sugar.
At night, we explored the lively side of the city by visiting Clarke Quay, a street where all the bars, clubs and eateries are situated.
As for my personal observations about the country, the people in Singapore are immersed in the fast-track life. There exists an air of loneliness which is hard to miss from an outsider's perspective. Yet, the country is beautiful and unique. It was difficult to say our goodbyes as we set off to Malaysia after three days.
To be continued…