The reported rape and murder of a minor girl in Kasur has resulted in anger and grief countrywide. 

The seven-year-old was reportedly raped multiple times and then murdered - in what is being reported as the 12th gruesome incident of child abuse to have hit Kasur in the last one year.
Police said the minor, a resident of Rod Kot area of Kasur, was kidnapped on her way to a tuition centre on January 4. Her body was found in a garbage pile near Kashmir Chowk on January 9.
Politicians, celebrities and sportsmen took to social media to condemn the incident and demanded justice.

Nobel Peace prize winner and activist for girls right to education, Malala Yousafzai demanded that the government take action.
Pakistan Peoples Party chairman Bilawal Bhutto Zardari expressed his sympathies and solidarity with the bereaved family and demanded that Pakistan re-evaluate how it deals with such horrific crimes, specially against children. 

Pakistan Tehreek-e-Insaf (PTI) chairman Imran Khan condemned the incident and pointed how unsafe children were in our society.
PML-N leader Maryam Nawaz Sharif demanded exemplary punishment.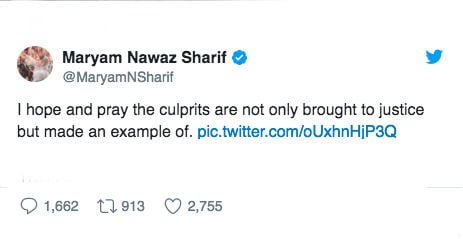 Punjab Chief Minister Shehbaz Sharif said he will not rest till the perpetrators are brought to justice.

Actress Mahira Khan demanded that the culprit(s) be handed exemplary punishment for the crime. 

Mawra Hocane expressed her shock at the incident. 

Actress Hareem Farooq took to Twitter to express her grief.
Fahad Mustafa also expressed his grief on social media:

Cricketers grieved the brutal rape and murder. Wahab Riaz prayed for patience for the ill-fated parents of the girl.

Former skipper Wasim Akram said we all felt sorry for Zainab, ashamed and gutted. 
"I am heart broken, gutted and disgusted what sort of society we r living in.. heart goes out to the parents... #JusticeForZainab," tweeted Mohammad Amir.

Renowned cricketer Shahid Afridi also shared his views.
"Being a Father just can't imagine the pain of parents after this, condolences to her parents & alarming situation to society we r living in.. Govt should do prompt action against the culprit & give justice to ZAINAB," Mohammad Hafeez shared.
Junaid Khan called for political issues to be set aside and asked everyone to join hands to find a solution to prevent such crimes.
Shadab Khan tweeted:

Najam Sethi tweeted:
Cricketer Azhar Ali tweeted: