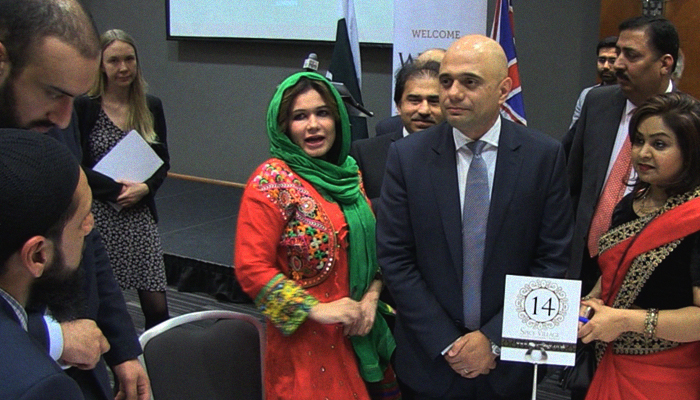 LONDON: Sajid Javid, a Member of Parliament (MP) for Bromsgrove in Worcestershire and the UK's Secretary of State for Communities and Local Government, has said Pakistan's creation was a milestone that evokes a sense of national pride for Pakistanis around the world, including the 1.2 million British-Pakistanis.
Javid, the first state secretary of British-Pakistani origin, expressed these views while delivering his keynote address at the third annual 'Leaders of Tomorrow Congress', organised by the World Congress of Overseas Pakistanis (WCOP).
A large number of Pakistani youth and professionals attended the event, which started with both Pakistani and British national anthems being played.
The Conservative Party parliamentarian said March 23 reminded British-Pakistanis of the "celebration of a march towards independence … this milestone means a lot to our families and friends.
"It means a lot to Pakistani diaspora across the world including British-Pakistanis who form one of the largest communities outside of Pakistan," he added.
Javid said he was proud to be speaking as a "British-Pakistani Secretary of State" as countrymen who have emigrated to the UK have performed well in public service and private sector, as well as in transforming lives.
The son of a Muslim migrant who worked as a bus driver in the UK, Javid said he was proud to see fellow British-Pakistanis in the parliament. 
Javid comes from a state-schooled background. His father, Abdul, moved from Pakistan to the UK in 1961 with just £1 in his pocket, eventually settling in Rochdale, where Javid — one of five brothers — was born.

Speaking on the Integrated Communities Strategy green paper that pledged £50 million to boost integration in Britain, Javid said his mother's decision to learn English 15 years after arriving in the country "transformed her life and the life of the entire family".
He said it enabled her to work for the family clothing business, build a new network of friends, and — years later — speak freely with her daughter-in-law, Laura, and her grandchildren.
Javid stressed that empowering and educating women could make a big difference in the lives of the entire family.
The communities and local government secretary promised to boost teaching immigrants English, considering that up to 70% of those unable to speak the language were women and most of them were from Pakistani or Bangladeshi communities.
He explained that 770,000 people living in England speak little-to-none English.
Syed Ibne Abbas, the High Commissioner of Pakistan, also paid a rich tribute to the hardworking and inspirational British-Pakistanis who are making "Pakistan proud".
Abbas said it was essential to recognise the success stories in order to continue the tradition of excellence.
Syed Qamar Raza, the Co-Chairman of Conservative Friends of Pakistan and Chairman of the WCOP, paid a resounding tribute to the high-achieving British-Pakistanis.
"We have doctors from NHS, policemen and women from the Met and City of London Police, professionals from the Home Office, solicitors and barristers from the top firms and institutions, teachers, academics, fashion designers and artists, students, sportspersons, homemakers, influencers, leaders, mentors, authors, community builders and young leaders.
"We all are indebted to you. We are so proud of you, of what you are doing and accomplishing for the United Kingdom."
Raza appreciated Secretary of State's initiative and expressed the full support of the community.
"Our Secretary of State for Communities clearly understands the vital need of social integration, social cohesion and promotion of British values, on helping people learn English, encouraging more women to find work and promoting 'meaningful discussion' between young people.
"I am happy to announce our full support of this initiative and let me also share that we are already taking lead on all these above-mentioned items."
Arif Anis Malik, the co-founder and executive director of the WCOP, stressed that it was imperative to have positive role models in life as they aspire people to become bigger than the challenges they face.
He added that the WCOP would continue recognizing and acknowledging the high-achievers and champions of excellence from diverse walks of life.