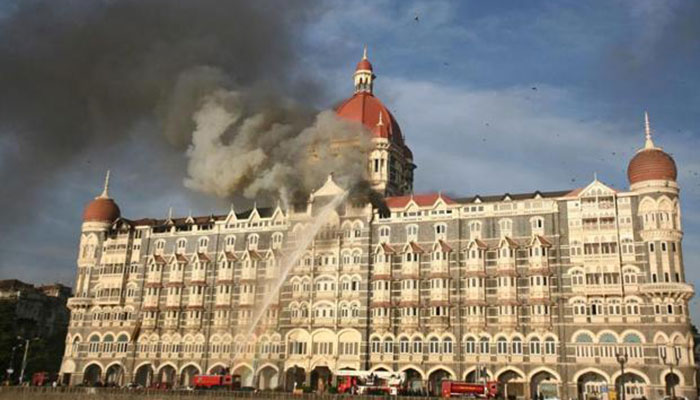 ISLAMABAD: The anti-terrorism court conducting the 2008 Mumbai attacks trial issued summons on Wednesday to the two Pakistan-based prosecution witnesses in the case to record their statements.
The witnesses, Federal Investigation Agency's additional directors Wajid Zia and Zahid Akhtar, will appear before the court next week. 
The court also sought a response from the FIA and ministries of interior and foreign affairs on the availability of the 27 India-based witnesses by May 23.
The court lamented that despite repeated notices, it has not been informed of the status of Indian witnesses since January 2016.
During today's hearing, the court recorded the statement of DPO DG Khan Sohail Habib Tajik was recorded today. 
In total, the court has recorded the statements of 85 prosecution witnesses in the case.
The primary suspect, Zakiur Rehman Lakhvi, is on post-arrest bail and did not appear in court today. Lakhvi is said to be a senior operative of the banned Lashkar-e-Taiba militant group. 

His exemption from hearing request for today was approved by the court.
The other accused in the case, Hammad Amin, Shahid Jameel, Zafar Iqbal, Abdul Wahid, Mohammad Younas, Sufyan Zaffar and Jamil Ahmad, are in jail.
The trial has been under way since 2009. 
NSC laments Indian role in Mumbai trial 
In a special meeting of the National Security Committee (NSC) on Monday, the country's top civil-military leadership regretted that India denied Pakistani investigators access to Ajmal Kasab, the convicted Mumbai attacker who was hanged by India.
The statement said that Kasab's hurried hanging by India impeded the investigation of the case, adding that India repeatedly denied assistance in the probe while there was complete cooperation from Pakistan.
The NSC meeting was called following former prime minister Nawaz Sharif's controversial statement on the Mumbai attacks, which were played up by the Indian media as an admission of Pakistan's guilt. 
Mumbai attacks 

More than 164 people were killed and over 300 injured in coordinated attacks in Mumbai in 2008. India blamed Pakistan-based militant groups of spearheading the assault. 
The lone surviving attacker, Kasab, was caught injured and hanged by India in 2012 before he could record his statement in front of Pakistani investigators.