LAHORE: A man, who had jumped off a plaza in Lahore in the wake of a fire, succumbed to his injuries at a hospital on Saturday.

The deceased, identified as Imran, breathed his last during treatment at the city's Services Hospital, the medical superintendent (MS) of the hospital confirmed.
The fire brigade personnel doused off a blaze erupted at the Ali Towers situated on Lahore's MM Alam road. 

At least two people jumped off from the building in a bid to escape the fire. Both the injured were shifted to the hospital for immediate treatment, one of whom succumbed to his injuries.
"Every single person was rescued from the building," the provincial information minister Fayaz ul Hasan Chohan said while speaking to the media.  

The local administration said that the fire has been extinguished at the basement of the plaza and the procedural cooling process has been completed.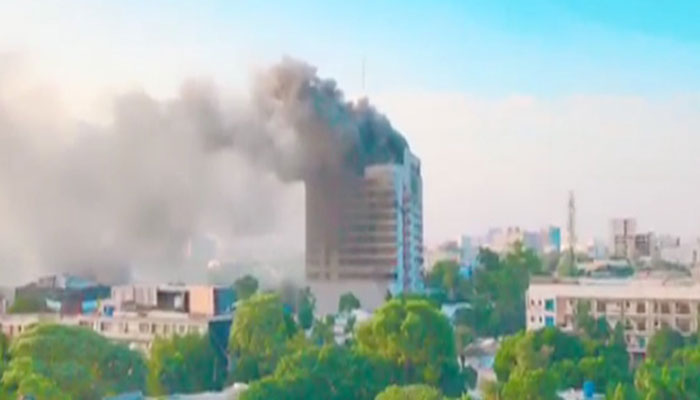 "The plaza is owned by former Punjab CM Shehbaz Sharif's son-in-law. Investigations are underway on the cause of the fire," Chohan said while briefing the media over the incident. 
Seven fire tenders took part in extinguishing the fire, with the personnel entering the affected building through an adjacent building.  
Lahore Deputy Commissioner Captain (retd) Anwarul Haq said the fire brigade personnel immediately arrived after the blaze erupted at the building's basement. 
Punjab Chief Minister Usman Buzdar has directed the authorities to investigate the fire incident and have summoned report from the Punjab Inspector General.