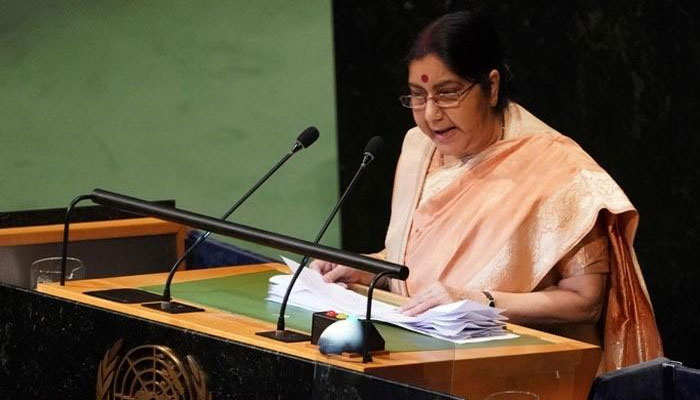 UNITED NATIONS: Indian Minister of External Affairs Sushma Swaraj once again levelled baseless allegations against Pakistan during her address to the United Nations General Assembly in New York on Saturday.

The Indian minister entirely ignored worst human rights violations by Indian forces in occupied Kashmir.
She declared Pakistan responsible for failure of a dialogue between the two countries, reiterating terrorism allegations against Pakistan to defame the struggle of Kashmiri people for their right to self-determination.
Swaraj said that India is facing a terror threat from its neighbour, adding that the mastermind of Mumbai attacks has still not been brought to justice.
She said the new Pakistani government offered New Delhi to hold talks, alleging that immediately afterwards Indian soldiers were killed on the border.
The minister said that India cannot hold talks in such an atmosphere.
On the occasion, Swaraj completely ignored ongoing atrocities in Indian-occupied Kashmir (IoK).