ISLAMABAD: President of Pakistan Dr Arif Alvi made a startling confession on Friday when he revealed that he had to pay Rs50,000 in bribe to have an analog telephone installed in the 1970s.

"When I became a dentist, I got a telephone installed. You will be astonished to hear that in those days, this was in the 1970s, Rs50,000 went in bribe for the telephone installation," President Alvi told the audience at a ceremony in Islamabad here today.
The president was addressing a ceremony in connection with National Voters Day. 
Speaking at the ceremony, the president emphasised on the promotion of e-voting to ensure transparency in elections.
Chief Election Commissioner (CEC) Justice retired Sardar Muhammad Raza also attended the ceremony.
"When I brought a petition to the Chief Election Commissioner in 2013, there were nearly 50 or 60 polling stations where there were no presiding officers or ballot boxes had reached because of terror. And this is from Karachi," he said.

"Democracy has been hijacked in the whole world with power and with money. I am requesting you [CEC] and legislators, whatever you have to decide on how the 2023 elections will be held should be decided beforehand."
President stresses installations of cameras at polling stations
President Alvi said the use of electronic voting machines, digital identification and cameras would enhance fairness of elections. 

He suggested that cameras be installed at all polling stations so that the number of voters going to the polling station and the number of votes cast can be crosschecked.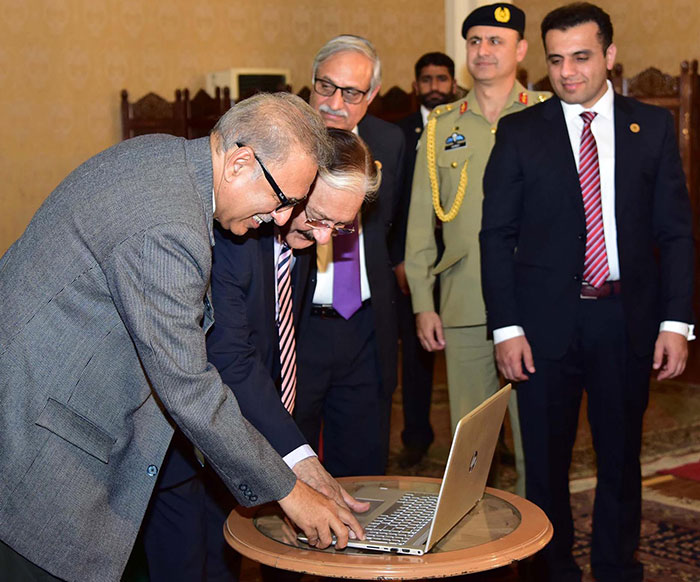 "There was also a lot of contradiction on this point at one time when they said 700 went in and 1,400 [votes] came out, and it couldn't ascertained where the extra 700 came from," he said.

He urged Parliament, the Election Commission of Pakistan, and the government to pay attention to these matters so that post-election controversy can be avoided.
He also emphasized on the provision of facilities to disabled voters to cast their ballots.
President Alvi said free and fair elections provide the groundwork for democracy and progress of a country, and that voters have an important role in strengthening democratic values.