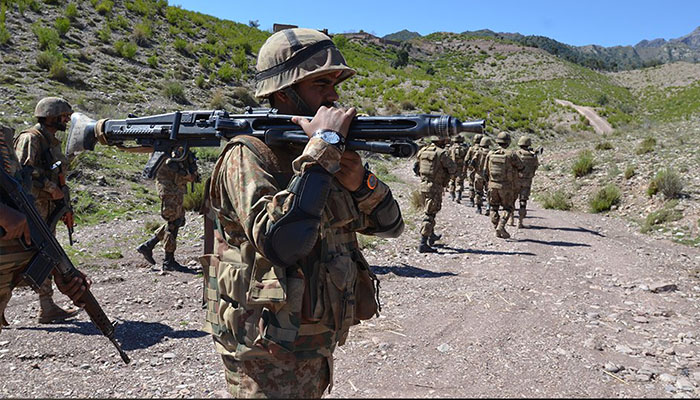 RAWALPINDI: Pakistan's Armed Forces are fully [prepared to give a befitting response to any Indian aggression, Director General Inter Services Public Relations Major General Asif Ghafoor tweeted on Monday.
In the tweet, Major General Ghafoor said Chief of Army Staff (COAS) General Qamar Javed Bajwa visited the Air Headquarters and with Chief of Air Staff (CAS) deliberated on the operational environment including threat and response. "Both Chiefs expressed satisfaction on readiness, coordination and synergy," DG ISPR said.
A day ago COAS General Qamar Javed Bajwa visited troops along the Working Boundary near Sialkot and said that there is nothing more sacred than defending the motherland.
The COAS appreciated the morale of the troops and their operational readiness.
"There isn't anything more sacred than defending the motherland. I take pride in leading an Army which is ever ready to perform this duty," the COAS stated.
On the same day (Sunday), Chief of Air Staff Air Chief Marshal Mujahid Anwar Khan said the Pakistan Air Force is always ready to fight any act of aggression as per the nation's expectations.
The PAF spokesman said that the air chief visited the forward operating bases today, where he interacted with the crew as well.
Air Marshal Anwar Khan said that Pakistanis are a peace-loving nation but if war is imposed on them, then they know how to protect the borders.