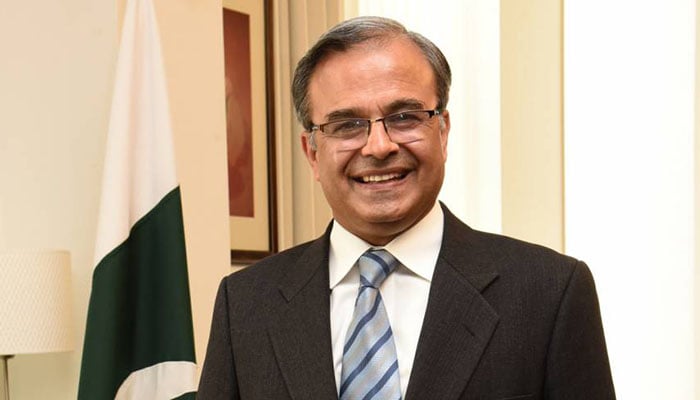 Given the sudden spike in tensions between India and Pakistan, our region is currently an area of international attention. It was, therefore, hardly surprising to see a packed audience come to hear Pakistan's new ambassador to the US during his first public engagement, held earlier this week at the United States Institute of Peace (USIP), a leading think-tank in Washington, DC.

Ambassador Asad Majeed Khan is a career diplomat with thirty years of experience. He was serving as an ambassador to Japan before his recent appointment to the US.
Khan is not new to DC either, having been deputy chief of mission in DC during US President Obama's years.
Although Pakistan's relationship with the US has always been turbulent, our post-9/11 bilateral relationship became particularly complex. The current US administration has decided to do away with diplomatic subtleties altogether. Besides halting coalition support funds and military training for Pakistani officers, the US president's tweets about Pakistan did not help matters.
The Trump administration has recently taken a step back and requested Pakistan's help in negotiating with the Taliban to stabilize Afghanistan. Besides valuing the growing strategic nexus between the US and India, many US policymakers and analysts are suspicious of Pakistan's growing ties with China. These were all challenges and issues that the USIP moderator and audience wanted Ambassador Khan to address, and more.
The ambassador faced some tough questions, including regarding the situation in Balochistan and the issue of 'enforced disappearances', even though these issues are not in the purview of an ambassador. When asked about Pakistan's contentious role in Afghanistan, he rightly pointed out how Pakistan also suffers when there is instability in Afghanistan. Besides reiterating Pakistan's role in trying to broker peace talks in Afghanistan, he stressed how Pakistan is tired of being viewed from an Afghanistan only prism. After years of silence on the Af-Pak hyphenation (and Indo-Pak de-hyphenation), Pakistan has become increasingly vocal in the last couple of years about not wanting to be treated by the US in such a myopic manner. This is a reasonable demand, and it was great to see some policy continuity when Ambassador Khan made this assertion.
The big elephant in the room, which got a lot of attention, of course, was the latest bout of cross-border tensions due to the situation in Kashmir. The ambassador asked for introspection on what led to the Pulwama attack. He pointed out how the crackdown on Indian-occupied Kashmir has increased even as tensions between the nuclear-armed neighbours are deescalating.
When asked about the presence of proscribed groups in Pakistan, he spoke in general terms instead of pointing out how the National Security Committee in its last meeting decided to accelerate action against proscribed organisations and ordered a re-imposition of the ban on Jamaatud Dawa and its charity wing.
Acknowledging the danger posed by future possible acts of violence in Kashmir, escalating the situation between the nuclear-armed neighbours again, he pointed to the need to address the situation in Kashmir. Indeed, there is now a very important window of opportunity available for just that.
Ambassador Khan primarily referred to the UN Security Council resolutions.
Longstanding UN resolutions on Kashmir had asked for demilitarization on both sides of the border before a plebiscite could be held. Conceding to this demand in the current context may not be feasible. Pakistan needs to think out of the box and use other emergent opportunities which can help address the Kashmir imbroglio in the interest of Kashmiris on both sides of the Line of Control.
Last year, the UN Human Rights Office published the first ever UN endorsed report on the human rights situation in Indian and Pakistani administered parts of Kashmir. Despite repeated requests, the UN Human Rights Office was not given unconditional access to either side of the LOC, which compelled it to undertake remote monitoring to produce the report. Pakistan decided it would only provide access if India did the same, which was a big mistake.
Ambassador Khan did not seem familiar with this report. Not only our Ambassador to the US, but our ambassadors in all major western countries need to familiarize themselves with the findings of this latest UN report concerning the human rights situation in Kashmir.
The Pakistan government must also take simultaneous steps to address the concerns identified in this UN report to increase pressure on India to address the more pervasive and grave human rights violations on its side of Kashmir.
Ali is a development anthropologist