Pakistani gamer Arslan "Ash" Siddiqui on Sunday won the Tekken 7 Championship at the Evolution Championship Series — or Evo 2019 tournament — held in Las Vegas of the United States' Nevada, becoming the first national player in the history to do so.

Arslan "Ash" Siddiqui — who played the Tekken 7 Championship at the Mandalay Bay Convention Center on August 4, 2019, and goes by the username Arslan_Ash — bowed down and touched his head to the ground in gratitude as he was crowned the World's Tekken 7 Champion.

In the Tekken 7 Grand Finale, Siddiqui beat South Korea's legendary Jae-Min "Knee" Bae. In a Facebook post on Monday, he expressed gratitude to his fans, saying "Thanks With your Duas!"

His win is a monumental one, especially in light of the fact that he was almost a nobody in the Tekken community a year ago; now, however, he is the best Tekken 7 player in the whole world!
Siddiqui's win was a fascinating and nail-biting match for the fighting game community (FCG) and, according to Vice, he returned home with almost $14,000 in prize money.
Siddiqui, now 23, plays with the character Kazumi Mishima, who is an antagonist in the fighting game and known for being the ex-wife of Heihachi Mishima and the daughter-in-law of Jinpachi Mishima.

Interestingly, combined with his win in Tokyo, he has now become the first-ever unified Evo champion.
Tekken 7 was one of the nine games offered at the event, apart from Street Fighter Arcade Edition, Super Smash Bros Ultimate, Mortal Kombat 11, Soul Calibur VI, Under Night In-Birth Exe:Late[st], Dragon Ball Z, BlazBlue Cross Tag Battle, and Samurai Shodown.

Back in May this year, Siddiqui, in an interview with theScore esports, had said: "Players from Pakistan, like Korea, are very good players and are very competitive.
"When they saw that I won, they're working harder and becoming better," he said. "They set me as a benchmark, right? So, now, if they're working hard, becoming stronger, it is ultimately beneficial for the whole Pakistan community in Tekken, right?"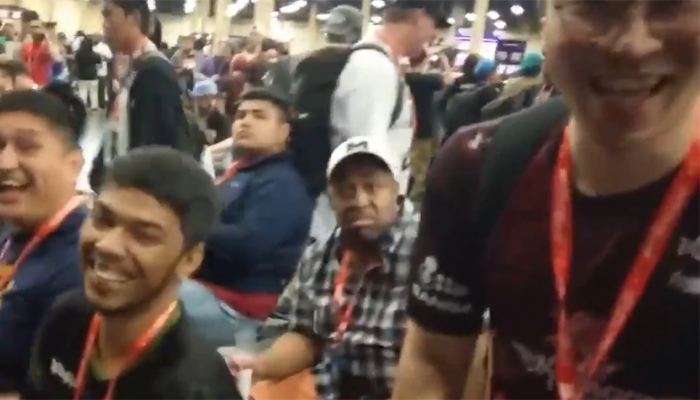 The Pakistani player, who had also won the Evo Japan 2019 earlier this year, started playing at the age of 11 and participating in the worldwide tournaments in 2018.
He entered the Tekken 7 scene after toppling gaming legend Knee in the OUG Tournament 2018, without losing a single game and surprising the entire community with his outstanding performance.
Siddiqui started playing at the age of 11 and participating in local and global competitions in 2018. According to an interview, his gaming name "Ash" comes from Ash Crimson and Ash Ketchum, both of which are his favourite characters.
Originally known for playing The King of Fighters, he was recognised as the best player from Pakistan and ranked Number 1 in Tekken Tag Tournament 2 and The King of Fighters XIII. He single-handedly beat the regional competition in at OUG Tournament 2018 to qualify for the King of Fighters XIV Finals.
A fighting arcade game, Tekken 7 is extremely popular among teen and young players.
The Tekken gaming community is astounded by the stunning performance of Siddiqui, who, in the past, has beaten famed Tekken players such as Knee, Chanel, Book, Cherryberrymango, LowHigh, Jimmyjtran, and AK.
Shortly before the tournament, he shared a picture of the arena.
Watch his fight with Knee here: