British-Pakistani actor, Riz Ahmed has become the latest celeb to speak out against India's recent decisions to revoke special status of the occupied Kashmir
In a post on Instagram, The Night Of star said, "Article 370 of the Indian Constitution, guaranteeing the autonomy of Jammu and Kashmir, has never been respected and has always been a sham.
"For starters, direct rule by Delhi has been imposed 8 times since 1977, and Kashmir has been subjected to the most intense occupation on Earth (soldier per capita)," Ahmed added.
Terming India's lack of respect for constitutional autonomy of occupied Kashmir the root cause of conflict, Ahmed said, India's latest move will further escalate the issue, both in the short and long term.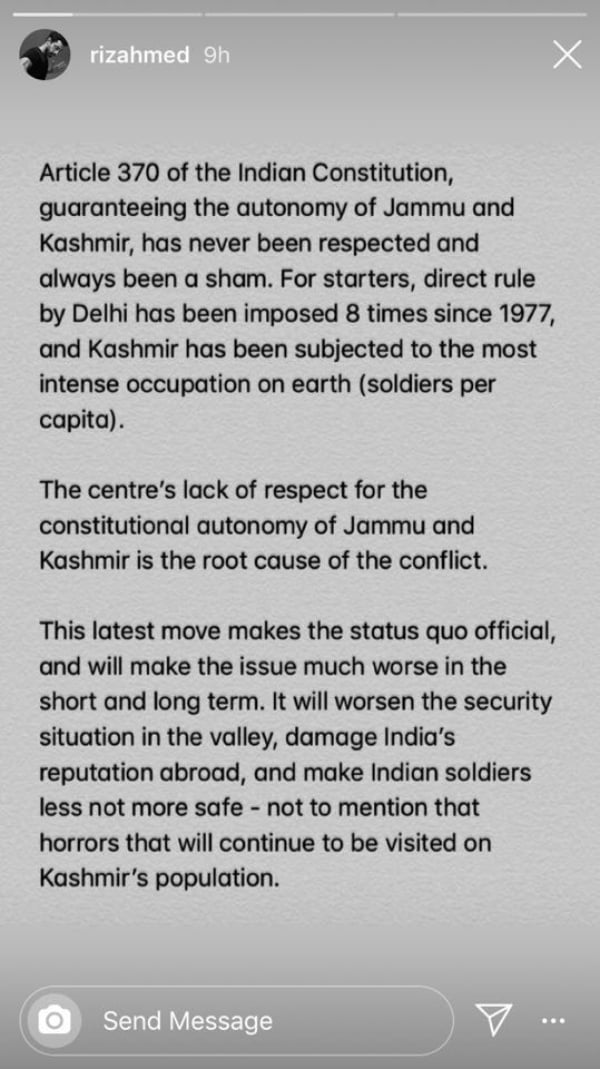 "It will worsen the security situation in the valley, damage India's reputation abroad and make Indian soldiers less not more safe — not to mention that horrors that will continue to be visited on Kashmir's population," he added.
On Monday, Indian Home Minister Amit Shah introduced a resolution to scrap Article 370 in Rajya Sabha, which would revoke the special status and make the occupied Kashmir a Union Territory with the legislature.
Earlier, Pakistani celebrities also came out in support of Kashmiris.
Actor Mahira Khan had said, "Have we conveniently blocked what we don't want to address? This is beyond lines drawn on sand, it's about innocent lives being lost! Heaven is burning and we silently weep."
Industry veteran Shaan Shahid had criticised Indian Prime Minister Narendra Modi and tweeted, "Bathing in Ganges will not wash away, the blood of the martyrs of Kashmir."

Mehwish Hayat and Hamza Ali Abbasi were also vocal against the Indian move and tweeted in support of Kashmir.