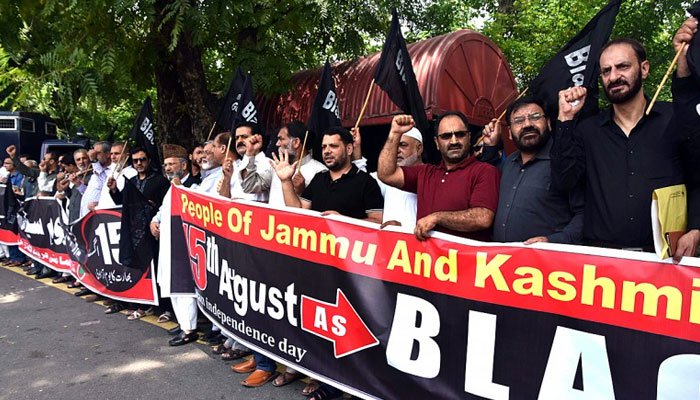 SRINAGAR: The Indian Independence Day is being observed as Black Day across Pakistan and on both sides of the Line of Control (LoC) today.
Black Day is being observed to protest against India's action to change the special status of the disputed valley.  Earlier, the federal government had announced they will observe the Indian Independence Day as Black Day across the country. 
Black flags will be hoisted on rooftops and vehicles across Pakistan and Azad Jammu and Kashmir (AJK), while protest rallies will be taken out in all small and major cities of the country to highlight the plight of oppressed Kashmiris who are under strict curfew and communication blackout since August 5.
Speaking to APP, a spokesperson for AJK government said, "Participants of the protest rallies will wear black bands around their arms while black flags will be hoisted atop the buildings by the protesting Kashmiris at both sides of the LoC." 
Anti-India rallies will be staged in all major cities including AJK's capital Muzaffarabad and all nine district headquarters of Mirpur, Kotli, Bagh, Bhimbher, Palandri, Rawalakot, Haveli, Jhelum Valley and Neelam Valley.
On August 5, the Bharatiya Janata Party (BJP) led Hindu nationalist government abolished the Indian constitution's Article 370, which granted special status to occupied Kashmir, as tensions mounted in the disputed valley with unprecedented numbers of Indian troops deployed in the region. 
The move by Narendra Modi's government rescinded years of autonomy and gave full control of the disputed region to New Delhi.
Occupied Kashmir has since faced strict curfew and an unprecedented security lockdown as a complete communications blackout.
Internet and phone communications have been cut and tens of thousands of troop reinforcements have flooded Srinagar and other towns and villages, with residents confined to their houses due to the stringent restrictions.