Yahoo said Thursday "most services are back online" but users were left frustrated and dissatisfied, claiming their service, including Yahoo Mail, were still not working.
"This is a technical issue that affected our services," Yahoo Customer Care said in a tweet Thursday evening.
"We are sorry for the inconvenience and thank you for your patience as we get everything back up and running," it added.
Yahoo Mail, as well as the Verizon-owned company's other services, suffered a major outage, it had confirmed earlier on Thursday, leaving numerous users irritated.
"You may not be able to access some of our services, including email," Yahoo Customer Care had said in a tweet.

"Our top priority right now is getting this fixed," it had added. "We appreciate your patience."
The tweet had not specify the number of users affected by the outage or its cause.
On the other hand, social media outage monitoring website, Downdetector.com, said Yahoo Mail was having issues since 2:10AM EDT, showing that over 4,000 users had been impacted.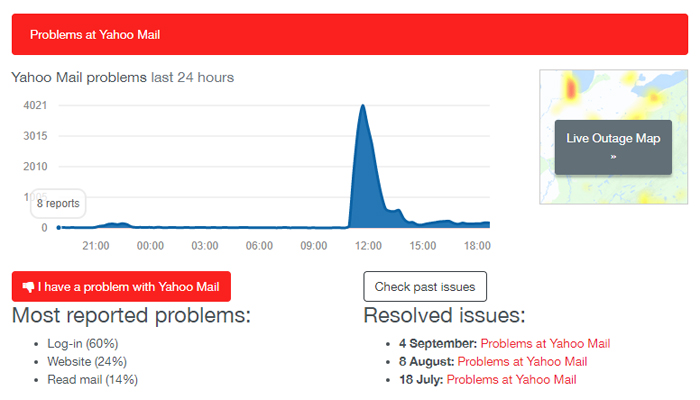 It said 60 percent of the complaints were related to log-in, 24 percent to the Yahoo website, and 14 percent in reading emails.

Most of the problems were seen occurring in Western Europe and South Asia, especially in India.

It also warned: "Scammers are attempting to rip off consumers by offering fake support for Yahoo Mail. Don't call support advertised in the comments below."

One of the users demanded refund from Yahoo, saying they "pay for the premium account".
Another said they had "no email in my inbox for the entire period that the servers was down", whereas user @EllenfJohnson called it a "disgraceful service".
A user in France informed outage had hit there as well, while yet another said they were "relieved as I thought I'd been hacked".