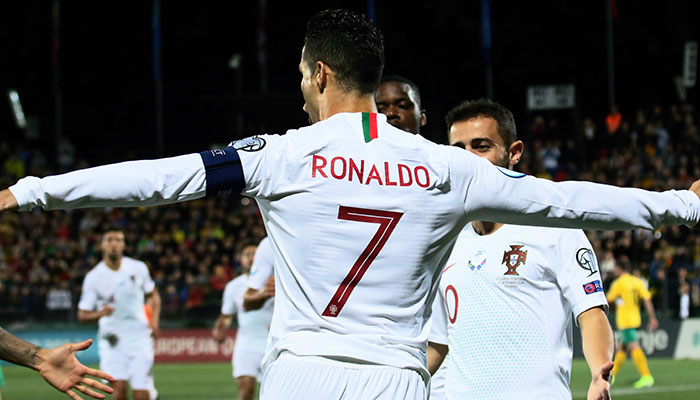 Portuguese forward Cristiano Ronaldo has become the first footballer to score against 40 different countries.
The Portuguese captain's latest record took also took his international tally to 93 goals when he scored four times to give the European champions a 5-1 win away to Lithuania in their Euro 2020 qualifier on Tuesday.
Playing in his 161st international, the 34-year-old notched his eighth hat-trick for his country and the 54th of his career to help Portugal through.
He is the only person to achieve such a remarkable feat.
Here's a list of the countries Ronaldo has scored against.
Armenia, Sweden, Latvia, Andorra, Netherlands, Estonia, Hungary, Faroe Islands, Lithuania, Luxembourg, Northern Ireland, Denmark, Belgium, Russia, Spain, Switzerland, Saudi Arabia, Azerbaijan, Kazakhstan, Cyprus, Bosnia and Herzegovina, Czech Republic, Cameroon, Egypt, Greece, Slovakia, Iran, Poland, Finland, North Korea, Iceland, Argentina, Panama, Ecuador, Croatia, Ghana, Wales, New Zealand, Morocco and Serbia.