ISLAMABAD/MIRPUR: The death toll from Tuesday's earthquake in Azad Jammu and Kashmir rose to 37, with more than 500 injured.

The epicentre of the 5.8-magnitude quake was near the Kashmiri city of Mirpur, roughly 20 kilometres (12 miles) north of Jhelum in agricultural Punjab province, according to the US Geological Survey.
Near Mirpur, roads were completely destroyed and vehicles overturned by the tremors while bridges, mobile phone towers, and electricity poles were also badly damaged in the melee.
The quake sent people in Lahore and Islamabad running into the streets, while tremors were also felt as far as New Delhi. The Press Trust of India reported that panicking people rushed out of their homes and offices in several places, including in Rajasthan, Punjab, and Haryana.
Tremors were also felt in Rawalpindi, Murree, Jhelum, Charsadda, Swat, Khyber, Abbottabad, Bajaur, Nowshera, Mansehra, Battagram, Torghar and Kohistan.
Read more: Here's what to do after an earthquake
Mangla Dam powerhouse turbines restarted after earthquake
The Mangla Dam had reportedly lost 900 megawatts' worth of power after a powerful earthquake hit Pakistan's northern areas, sources at the Water and Power Development Authority (WAPDA) said after they were shut down earlier due to an earthquake-related safety scare.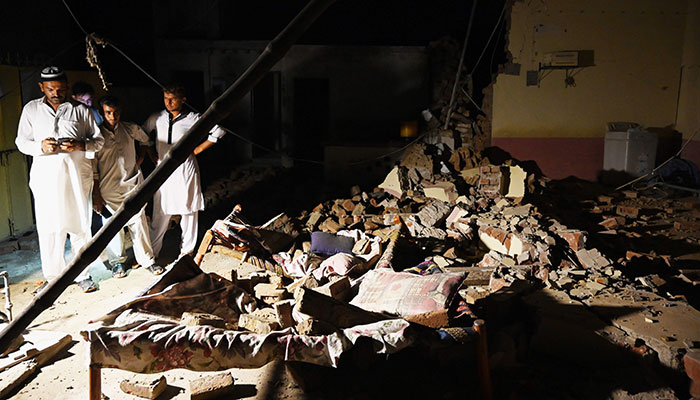 Sources further said the Mangla Dam and its powerhouse were safe, adding that the turbines at the reservoir's powerhouse had been shut down as part of the precautions.
The National Disaster Management Authority (NDMA) had warned that aftershocks were to be expected within the next 24 hours in the earthquake-hit areas across Pakistan.
In a notification released in wake of the calamity, the NDMA said that all the protective measures should be taken to lessen the impact.
It further urged the public to share any losses or damage to the authority.
In pictures: havoc wreaked by earthquake in northern Pakistan, AJK
Army chief orders troops to participate in rescue activities
Chief of Army Staff General Qamar Javed Bajwa directed army troops to participate in rescue activities due to the earthquake in AJK and other affected areas, according to DG Inter-Services Public Relations Maj General Asif Ghafoor.
According to DG ISPR, the army chief directed army personnel to completely cooperate with the civil administration of AJK.
DG ISPR said that Pakistan army's aviation and medical teams have been dispatched to AJK and other earthquake-hit areas.
PM directs concerned depts on relief work in quake-hit areas
Prime Minister Imran Khan on Tuesday directed the concerned departments to provide immediate support in the ongoing relief activities in the quake-hit areas.
The prime minister expressed grief over the losses in the quake-hit areas, PM office in a press release said.
He also directed the National Disaster Management Authority (NDMA) to expedite relief activities in the affected areas.