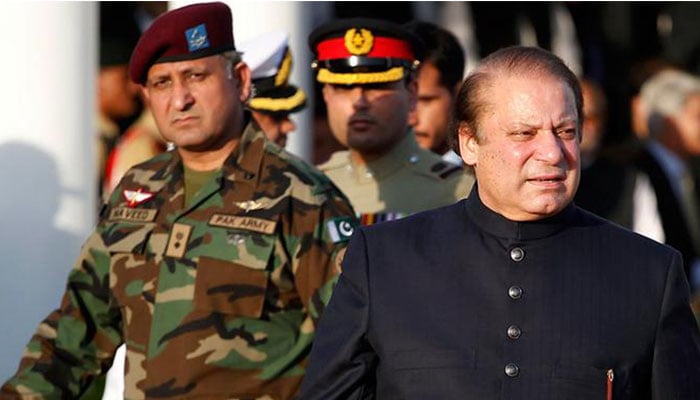 LAHORE: Nawaz Sharif will fly abroad on Tuesday, a day which not only bears immense importance and significance in Pakistan's 72-year-old history, but the ailing three-time former Pakistani premier also has some bittersweet memories associated with this second day of the week. 
Special research conducted by Geo News shows that Tuesdays have a lot of historical significance attached to them when it comes to Pakistan's history. Hence, here follows a list of some events that have taken place on Tuesdays in Pakistan:
Nawaz assumes charge as CM in 1985: It was a Tuesday.
Nawaz assumed charge as the Punjab's chief minister on Tuesday, April 9, 1985, making his formal debut in the mainstream politics of the country. 
Nawaz takes oath as premier: On a Tuesday.
Nawaz took oath as prime minister, his first stint in power, on November 5, 1990, which was a Tuesday too.
Nawaz dismissed in 1999 coup: Tuesday.
However, on October 12, 1999, which was yet another eventful Tuesday, Nawaz Sharif was ousted in a bloodless coup by the then army chief, General Pervez Musharraf.  
General Musharraf appointed army chief in 1998: Tuesday.
Musharraf was appointed Pakistan's army chief by Nawaz Sharif himself on October 6, 1998, which was a Tuesday too!
First martial law in 1958: Tuesday.
On October 7, 1958, when President Iskander Mirza had declared the first-ever Martial Law in Pakistan, it was a Tuesday.
He had abrogated the Constitution of 1956, describing it as "unworkable" and full of "dangerous compromises". He dismissed the government of Sir Feroz Khan Noon, dissolved the National Assembly of Pakistan and the provincial legislatures at will.
Second martial law in 1969: Surprise, surprise, it was a Tuesday!
The second martial law in Pakistan was imposed on March 25, 1969, which was yet another Tuesday. This time, the-then Pakistan president Ayub Khan had abrogated the Constitution and handed over powers to the Army Commander-in-Chief, General Agha Mohammad Yahya Khan.
Third martial law in 1977: You guessed it, Tuesday!
General Zia ul Haq deposed premier Zulfikar Ali Bhutto in a military coup and declared the third martial law on July 5, 1977. And this was a Tuesday too. 
Approval of 1973 constitution: Tuesday.
The Constitution of the Islamic Republic of Pakistan, also known as the 1973 Constitution, was approved by the Parliament on April 10 of the same year, which was a Tuesday.
1973 Constituent ratified on: Yes, Tuesday!
The Pakistani Constitution, drafted by the government of Zulfikar Ali Bhutto, with additional assistance from the country's opposition parties, was ratified on August 14, 1973, which was a Tuesday too.
Benazir dismissed as PM in 1996: On a Tuesday!
On November 5, 1996, also a Tuesday incidentally, the-then premier Benazir Bhutto's second government was dismissed by her hand-picked President Farooq Leghari. 
Yousaf Raza Gilani sent packing by SC: Folks, it was on a Tuesday!
Yet another Pakistani premier, Yousaf Raza Gillani, was sent packing by the Supreme Court of Pakistan on June 19, 2012, which happened to be a Tuesday too.
Gillani was disqualified for his earlier conviction on April 26, 2012. 
Yousaf Raza Gilani takes oath for PM: On a Tuesday.
Amazingly, Yousaf Raza Gillani had taken oath as prime minister on March 25, 2008, which was a Tuesday too.