LONDON: Protests outside Avenfield House here in the metropolis' Park Lane, near Hyde Park, where former prime minister Nawaz Sharif currently resides, took a turn for the ugly as some protesters issued calls for violence against the ousted prime minister. 

A crowd of around 40 protesters led by Chaudhary Tariq Mehmood — who runs a group called Pakistan Patriotic Front and is reportedly linked to former president General (retired) Pervez Musharraf's party — were also seen engaging in violent behaviour, with some attempting to trespass and others trying to break down the main gate of the property.
Despite the ruling Pakistan Tehreek-e-Insaf (PTI) distancing itself from any protests against the ex-prime minister in London and its information secretary in the United Kingdom, Taqveem Ahsan Siddiqui, saying it had "not called for any demonstration", the mob raised slogans in support of the party and many were seen sporting the party's caps.
In a video obtained by Geo News, protesters could be seen carrying posters that read, "We cannot wait for the law," "Avenfield belongs to us to keep," "Imran Khan our pride," and "Long live PTI." 
A few were heard advocating violence against the thrice-ousted prime minister and advocating for an attack on the property.

Also read: PTI-UK says not to protest outside Avenfield flats

Video footage showed at least three demonstrators banging the Avenfield House's front gate, whereas two managed to enter from a side entrance before being asked by police to leave immediately.
The scenes outside Avenfield House were similar to those witnessed when Nawaz Sharif and his daughter, Maryam, had left for Pakistan back in 2018, a few days before the general elections.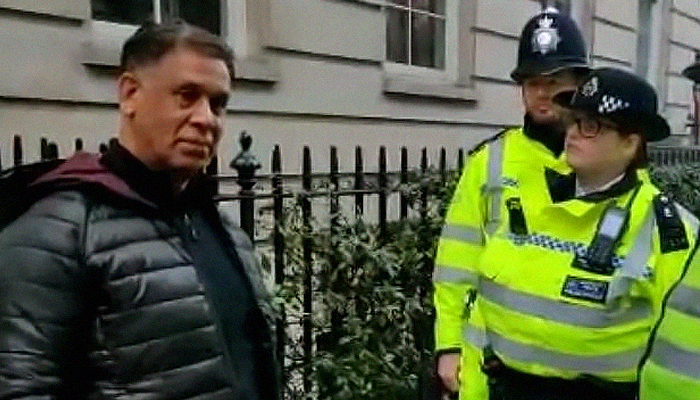 Ahead of Sunday's protest, Mehmood, one of the leading protesters, had also issued a call demanding the 'occupation' of the Avenfield House. 
In a viral audio message, he had said: "Its our duty to occupy the property of these people. This is our right. This property belongs the people of Pakistan. We are monitoring the whole situation and, if needed, we will move in.

"We will move into the Avenfield House in the same way that the property of Libyan leader [Muammar] Qaddafi was occupied and the British government took no action against them because the government thought these properties were made with looted money.
"For us to occupy these properties, it is our right because this money belongs to Pakistan. Its our duty to occupy the properties of everyone who comes to the UK," Mehmood had said.
Separately, a senior elected official of the PTI in the UK, Soraya Aziz, had issued a similar call through her Twitter account mid-November before Nawaz reached London.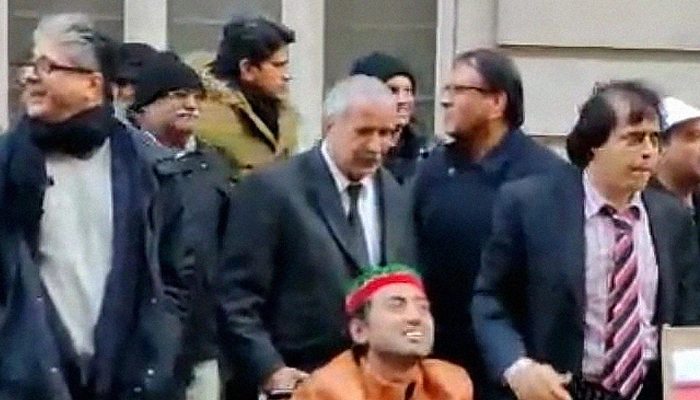 In a post that was later unavailable owing to Aziz changing her Twitter account handle, she had said: "For his own safety, I strongly recommend Nawaz Sharif not leave his Avenfield Apartments.
"If he's seen shopping in Knightsbridge, overseas Pakistanis will give him such a response that even his few remaining platelets won't know where to hide," Aziz had threatened.
A day prior, Siddiqui, the PTI's information secretary in the UK, had distanced the party from the protest, saying in a statement that: "The PTI has not called for any demonstration outside disqualified Former Prime Minister Nawaz Sharif's residence.
"It has been brought to our attention that an invite to demonstrate outside his residence is in circulation. PTI UK does not have any intention to call or join any demonstration outside Nawaz Sharif's residence until he abides by his bail condition," he had added.
Siddiqui had added that the former premier was in the UK for a medical check-up as per conditions granted by the Lahore High Court (LHC) and, as long as the bail conditions were effective and he abided by them, the PTI-UK had no intention for any activism outside his residence.

Siddiqui had clarified that the PTI-UK distanced itself from any such event and from any individual calling for such an event until announced through official platforms or by the office-bearers of the party's chapter in the UK.
"PTI-UK advises all supporters and activists of Pakistan Tehreek-e-Insaf to get confirmation from their respective elected officials of the chapters before attending any such activities," he had noted.
A PML-N spokesperson had said Mehmood has been reported to the police "for the violent threats he had made". They added that Mehmood had issued threats to enter the property by force, which is an offence, and that the police had been informed.
"We have also told the police that Mehmood has relations with an extremist group and he is known for issuing threats to community members," the spokesperson had stated.
Mehmood, who has campaigned in the past for the release of Karachi gangster Uzair Baloch, has claimed in posters that he was arranging demonstrations to "demand recovery of looted wealth".
Mehmood has also been linked to Musharraf's All Pakistan Muslim League (APML), Tehreek-e-Labaik Pakistan (TLP), and former interior minister of Sindh, Zulfiqar Mirza.