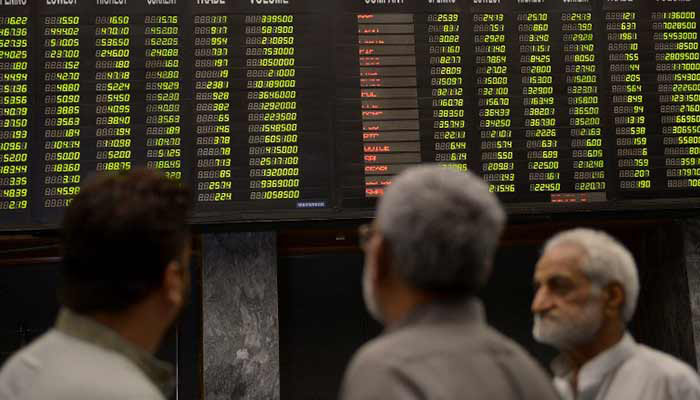 Stocks on Friday were hit by a profit-taking streak, following yesterday's record rally as the market looks for fresh buying stimuli beyond foreign inflows to move ahead, dealers told The News.

Shares in the Pakistan Stock Exchange's (PSX) KSE-100 index lost 0.68 per cent or 279.26 points and ended the day at 40,848.53 points, while its KSE-30 index slipped 0.46 per cent or 86.17 points to end at 18,776.98 points level.
"Stocks closed bearish amid uncertainty over outcome of ongoing cross-border tensions," said Ahsan Mehanti from Arif Habib Corporation.
Oil and fertiliser sectors outperformed the rest of the market due to higher global crude oil prices and surging local urea prices [respectively], Mehanti said.
"Investor concerns over political noise, weak earnings outlook, higher CPI inflation, dismal auto sales data in November, foreign outflows, and renewed concerns over economic growth weighed on stocks," he said.
Of 355 active scrips, 112 were up, 221 retreated, and 22 remained unchanged. Volumes were up a little at 267.578 million shares, compared to 236.832 million in the previous session.
"The market lacked positive news from economic sector as the year has now near to close," said Salman Ahmad, the head of institutional sales at Abba Ali Habib Securities.
Correction set in due to the weekend, Ahmad added.
"The market has been fundamentally strong and is expected to perform better next year as several companies hold promise of healthy returns," he added.
The market throughout the session was mixed with the index recording small gains in pauses; but selling pressures later trimmed share values.
Nevertheless, before the end the index slipped by more than 250 points, ignoring some interest from financial institutions, mostly mutual and some foreign funds.
Losses were incurred because of selling by profit-seekers, despite arrival of second installment from the International Monetary Fund (IMF) and active support from foreign fund houses.
A leading analyst noted that the arrival of $452 million was already discounted by the market so the upward trend triggered by fiscal developments now stood muted.
Despite increase in crude oil prices, which touched a three-month high of around 61 dollars per barrel, selling in domestic companies belonging to exploration and production sectors decreased due to institutional as well individual selling.
"Economy might suffer if crude oil prices remain at the current level or go up to $70 per barrel and the government's economic firefighting faces hurdles," the trader said.
"The market moved both ways during the day with +162 points and -401 points, ending the session at -279 points," noted Arif Habib Limited in its market analysis.
Month-end closing met anticipated flows from institutions that created selling pressure on the bourse, the brokerage firm added.
The highest gainers were Phillip Morris Pakistan, which gained Rs71.47 to close at Rs2,449.45 per share, and Sapphire Textile, gained Rs46.50 to finish at Rs1004.00 per share.
Companies that booked highest losses were Mari Petroleum, which fell by Rs30.14 to close at Rs1,324.82 per share, and Bata Pakistan, shares also fell by Rs28.96 to close at Rs1,982.29 per share.
WorldCall Telecom recorded the highest volumes with 31.828 million shares and gained Rs0.11 to end at Rs1.38 per share.
Hascol Petrol's turnover was lowest at 5.771 million shares; however, the scrip gained Rs1.16 to end at Rs24.40 per share.
Originally published in The News