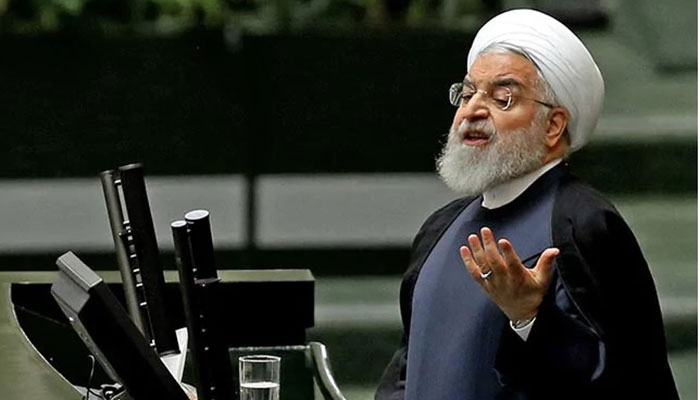 TEHRAN: Iran and the "free nations of the region" will take revenge on the United States for killing Revolutionary Guards commander Qasem Soleimani, President Hasan Rouhani said Friday.
"There is no doubt that the great nation of Iran and the other free nations of the region will take revenge for this gruesome crime from criminal America," Rouhani said in a statement posted on the Iranian government website.
Also read: Top Iran commander Qassem Soleimani killed in US strike on Baghdad
Iran supreme leader vows 'severe revenge'
Iran´s supreme leader Ayatollah Ali Khamenei vowed "severe revenge" after the United States killed the commander of the Islamic republic´s Quds Force, General Qasem Soleimani, in Baghdad on Friday.
"Martyrdom was the reward for his ceaseless efforts in all these years," Khamenei said on his Farsi-language Twitter account in reference to Soleimani, also declaring three days of mourning.
"With him gone, God willing, his work and his path will not be stopped, but severe revenge awaits the criminals who bloodied their foul hands with his blood and other martyrs´ in last night´s incident".
Also read: Pro-Iran protesters leave US embassy in Baghdad
Iran´s Revolutionary Guards confirmed Soleimani had been killed early Friday, saying he was "martyred" in an attack by US helicopters on Baghdad airport.
Soleimani was one of the most popular figures in Iran and seen as a deadly adversary by America and its allies. Khamenei called Soleimani the "international face of the resistance" and said he was killed by "the most cruel of those on earth".
All people who back the resistance would be his "avengers", he added. "The lack of our devoted and dear general is bitter, but continuing the fight and achieving final victory will embitter the murderers and criminals even more," he added.
Also read: France voices solidarity with US over Iraq embassy attack
China urges 'calm and restraint' 
China on Friday appealed for restraint from all sides, "especially the United States", after top Iranian commander Qasem Soleimani was killed in a US strike in Iraq.
"We urge the relevant sides, especially the United States, to remain calm and exercise restraint to avoid further escalating tensions," foreign ministry spokesman Geng Shuang said at a daily press briefing.
Britain urges de-escalation 
British Foreign Minister Dominic Raab on Friday urged all parties to de-escalate after the United States killed Iranian Major-General Qassem Soleimani.
"We have always recognised the aggressive threat posed by the Iranian Quds force led by Qasem Soleimani. Following his death, we urge all parties to de-escalate. Further conflict is in none of our interests," he said in an emailed statement.
Meanwhile, Sky News, without citing a source, reported that Britain has increased its security and readiness at military bases in the Middle East following the attack.
Britain has about 400 military personnel in Iraq, who help provide training in the country. They are mostly located at Taji base, north of Baghdad.
"The safety and security of our personnel is of paramount importance and we keep our force protection measures under constant review. We do not to comment on specific force protection measures," a spokesman from Britain's Ministry of Defence said when asked about the report.