Over 10 female students of the Jamia Millia University participating in an anti-CAA protest march on Tuesday accused Delhi Police officers of hitting them on their private parts, Indian media reported.
The injuries were so severe that the women were shifted to Al-Shifa Hospital from the Jamia Health Centre where they were admitted for treatment.
"More than 10 woman students have been hit on their private parts. We have found blunt injuries and some have been hit in a way that we had to shift them to Al Shifa because injuries are serious in nature," said a resident doctor at the university.
Doctors said some students were suffering from internal injuries as they had been beaten with sticks on their chests. A woman pointed out a police officer standing near her and said that he had hit her on the chest with his boots. Doctors further said that one student had suffered serious injuries and had been shifted to the ICU.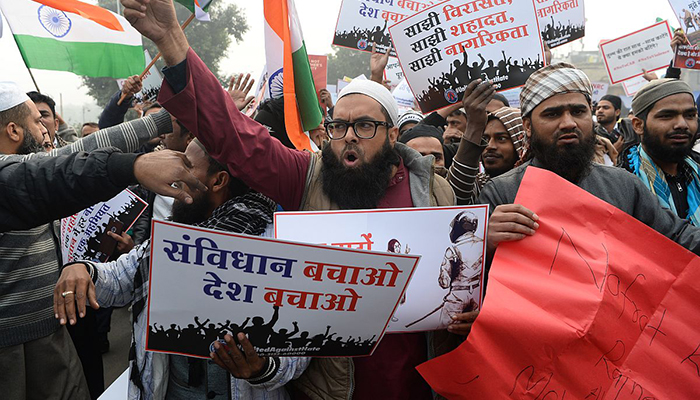 The law and order situation deteriorated in the university after a protest call was given by Jamia Coordination Committee (JCC) against India's controversial citizenship law. Scores of Jamia Millia students and Jamia Nagar residents got into a scuffle with police after they were disallowed from marching forward.
Read more: Thousands renew protests in India against citizenship law
Slogans of "Halla Bol" were raised by men who formed a human chain on the side of the roads as women walked ahead towards the parliament. The men formed a human chain to protect the women, the protesters raising slogans of "Kagaz Nahi Dikhayenge' (We will not show documents) and "Jab Nahi Dare Hum Goron Se Toh Kyun Dare Hum Auron Se" (When we did not fear the British, why should we fear others) as they marched on before being subjected to police brutality.
The Citizenship Amendment Act fast-tracks Indian citizenship for non-Muslim minorities from three neighboring countries. The law, seen as anti-Muslim, has been criticised as it excludes Muslims from citizenship.
Read more: Indian Muslim student rejects gold medal in protest against citizenship law
Protesters say the exclusion of Muslims betrays a deep-seated bias against the community, which makes up 14 per cent of India's population, and that the law is the latest move in a series by the Hindu nationalist government to marginalise them.